Wanna learn how women like you actually make it work with self-employment?
Come to this 4-week course for Women Exploring Self-employment, where you'll:
Feel yourself relaxing as you get some answers to your self-employment worries.
Be able to picture some specific pathways that work for making the leap.
Find a community of like-minded people. (Psst, supportive community is an essential part of success.)
Basic logistics:
Mondays, Oct. 20, Oct. 27, Nov. 3, Nov. 10, 2014
6:30 pm – 8:00 pm
Northampton, MA (Western Mass.)
Limited to 10 people.
Who Is It For?
This is perfect for you if all these are true:
You might want to be partially or fully self-employed.
You want to understand more about how people create a fulfilling sustainable self-employment experience.
You like the sound of being part of a small confidential group to help you think it through.
You want to find some clarity, confidence, and maybe even some momentum with your self-employment ideas.
Got Fear?
Money fears? Marketing fears? Fear of losing balance? …
People sometimes ask me at first, "But what if I'm full of fear?" Everyone's got fear. Fear is not some pathology that needs fixing. Fear can be dealt with. Don't you worry.
Getting some good information in this class can help reduce the fear. You don't have to reduce your fear before attending.
Cost and What's Included
$395 regular price
$345 for my email subscribers
$245 Early Bird rate – for email subscribers who register and pay by Sept. 19, 2014.
Best Deal: $195 per person, for you and a friend enrolling together by Oct. 12th. (Be sure to name each other on the registration form.)
Registration is rolling until full.
Guarantee: Full refund if you are unsatisfied and decide to end after the first meeting.
Payment is via Paypal or check. (Pay after you've registered when you receive confirmation.)
Includes:
Four group classes.
Professional handouts and exercises to help you access your own clarity.
A private facilitated online community for group members.
Option to schedule individual sessions for 20% off. (Within one month of the class ending).
What We'll Cover
Tried-and-true ways to make the self-employment leap so it doesn't feel like a life-threatening cliff.
Concerns about self-promotion and how it can be much easier than you think.
Tackling the practical questions of health insurance, money ups and downs, how people really manage it in real life, and work/life balance.
How to choose your business direction wisely to minimize risk and maximize sustainability.
Exploring the entrepreneurial mindset and whether it's for you.
How your personality plays into your decisions. Introvert, extrovert, organizing style, etc.
About Val Nelson, the Course Leader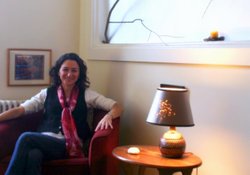 I've had my own business for about 6 years and it's working for me. I'm a former wallflower who never thought I could have my own business. I have learned what works for me as an introvert, instead of trying to do it someone else's way, and that has been the key.
I am self-employed and loving the freedom. Through my own challenges and successes with finding my sustainable path, I have developed tools to help others create a work life that supports their soul, their overall well-being, their financial needs, and the world's needs. I've helped hundreds of people find their own way. It's not about one-size-fits-all.
I have my challenges and fears just like anyone. Yowza, I get it. I love helping others find their way. It doesn't have to be so hard.
[Come meet me in this brief
introductory video about me
.]
Register Now
Enrollment is limited to a max of 10. Please register now.
No payment is due until you receive confirmation. I will review your registration form to make sure the group is a good fit for you.
How to Pay
If we have already spoken and it's time to send your payment, you can go ahead and submit payment below. Or contact me if you prefer to mail a check.

[wp_eStore_fancy1 id=31]

[wp_eStore_cart_when_not_empty]