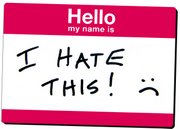 Networking is a major part of achieving any career or business goal. Yet introverts and others are apt to avoid it, even at the expense of their dreams! It's time to change that.
Learn from a former wallflower how to make networking easy and fun.
It's possible!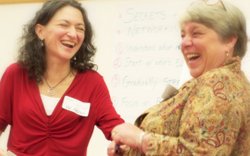 You'll come away from the brief workshop with:
Relaxed shoulders.
5 secrets to make networking work for YOU.
A refreshed view of your next steps for networking.
New connections
This presenter doesn't force you to be who you're not. She provides realistic strategies to work with who you are. ~Anonymous
I feel like you demystified networking for me, and helped me to see it from a different perspective. I now see it as relationship and community building, and it's actually fun. ~Lisa M.
Next Workshop
Thursday, Sept. 4, 2014, 5:30-7:00 pm
Women Business Owner's Alliance
Delaney House, Holyoke MA
(Western Massachusetts, near Northampton and I-91)
Open to non-members.
Register and get more details here.
Who Should Attend
Anyone who wants more ease and more impact when networking — for job search, career exploration, business, fundraising, or whatever your networking purpose. Especially for introverts. Extroverts welcome too.
____________________
Designed for and
approved by introverts.
_____________________
Facilitator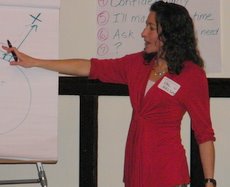 Val Nelson, Career & Business Coach: Besides sharing my own experience of going from hating to enjoying networking, I will share what I have found works when providing coaching for introverts.
You can hear some of my story and tips in this brief radio interview:
What Will It Be Like?
This is an interactive workshop, but there's nothing scary and nothing forced on you. (Read how a previous workshop went.)
We'll have a combination of discussions, individual worksheets, group activities, paired exercises, and optional open networking at the end. Everything is designed with introverts in mind, and my graduates have all found it easy to participate.
That was very easy to attend without worrying about having to be put on the spot. ~Anonymous
Want to Attend or Host a Workshop?
To be kept informed of future workshops and the launch of the online course:
Subscribe to updates here.
If you want to learn about having me lead a workshop at your location:
Contact me about hosting a workshop.
Other ways to get help for networking:
Come to The Introvert Clubhouse (including a free online group).
Schedule a one-hour networking consult with me. See Clarity Sessions and register there for your consult.