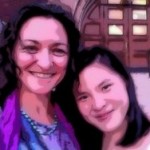 I help young women (typically ages 12-29) break free of the fear of being seen and heard, and the pain of not being seen and heard. "Quiet girls" have a lot to offer!
It doesn't matter about the label (shy, introverted, quiet…), but it does matter that you find your unique path to feeling valuable and expressing what you have to offer.
I was painfully shy at one time, and I understand the stuckness and pain of it.
I know the way out.
Typically, reserved people are told to "just do it" or "speak up!" That advice is not enough. That just drove me crazy when I heard it. In fact, it made me want to go further into a shell. Ugh. I wish someone had helped me understand what was great about my quiet nature.
Every girl deserves to be heard and understood.
Every girl has so much to offer.
Every girl has fear and can learn to manage fear.
I Can Help
I can help you unleash the gifts inside you. I can see the gifts inside you, even if you can't see them yourself.
Together we find your easeful path for joining the conversation whenever you want to. Not by forcing yourself to speak, but with a sense of FREEDOM.
Val has a real knack for helping introverts and shy people feel comfortable in a group setting. She's masterful at connecting with people and knowledgeable about the challenges and joys of being an introvert. Really, she's an expert at helping people figure out how to pursue their dreams, in a way that matches who they are. I have known her to be helpful to my introverted teen daughter, who found her kind, trustworthy, and more helpful than she had imagined. Not to mention, Val is wonderful model of a smart woman who finds success making thoughtful choices about her life!" ~anonymous mother of teens
I was that super shy kid while growing up, who could barely get a word out of my mouth even though I craved being heard and understood. It was more painful than it needed to be. I have broken free of that shyness grip and I have studied how I did it, and how others have done it. I know how to help. I feel called to pass it on.
I have helped many young women find that ease and confidence where there was so much stuckness. I bring my own ex-wallflower experience, my K-12 teaching experience, and my coaching training and experience. It works.
I know there are more young women (approximately ages 12-24) who need this kind of breakthrough. Is that you? Your daughter? Your niece? Your student? Your best friend? I'd love to hear from you.
[Use the contact form below.]
Sadly, fear and isolation can become more painful over time when someone tends to go into a shell. The fear and pain of shyness can be overcome, at any age, with the right kind of support.
[I coach adults too. See
Coaching for Introverts
.]
How It Works
I don't help people become someone else or just learn a few tricks. Instead we'll go over things like:
Uncovering what really matters to you. (Tapping into passion can trump fear!)
Learning about what shyness and introversion really are, and why that matters.
Learning what fear really is and how to manage it.
We'll then use all that new knowledge and your growing confidence to find your unique path for sharing more of your thoughts with others. We can talk through specific scenarios in your life.
We also discuss how all this applies to making life and career choices you'll love.
We go at the pace that feels right for you. You'll feel supported and heard in each session. Stress should gradually decrease so that you find yourself doing things you never thought possible.
Group and Individual Coaching
For individual coaching, we can meet in person (in Northampton MA) or by phone or Skype (so you can be anywhere). I'm available by email between meetings so you can share your thoughts and questions as we go.
Groups are available by my colleague.
Shyness or Introversion?
Don't worry about whether to call it shyness, introversion, or something else. All that matters right now is you want more ease and confidence to join in when you want to, and to break free of fear.
Understanding shyness and introversion is an important part of overcoming fears that hold us back. That's part of what we'll cover.
For clarity, introversion is not the same as shyness. There's nothing wrong with being introverted, but it can lead to painful shyness, fear, and isolation if the person doesn't understand introversion and how to manage social situations.
How to Begin
I am happy to schedule a free initial call with either a parent or with the young woman herself, or both at the same time. Begin by completing the form below. Then we'll have a call to see what kind of support will be most useful.
The initial call is free. After that, all meetings with the young woman and/or parents are billable at $225/hour. We'll begin with a Discovery Session for an hour and a half ($337).
If you're inquiring for someone other than yourself or your daughter, feel free to send me a note below, but please also refer the person or parent to this page so they can contact me themselves.
Feel free to also use the form below to send a question or any feedback about this service.