The Swan Sisterhood is a community of introverted women going through a career or life transition or "growth spurt."
Join us to enjoy some kindred spirit energy for your flight.

You'll get the non-judgmental camaraderie, room to breathe, and practical guidance you need to move forward without the overwhelm.
Are people telling you that you have to "get out there" more — for personal or professional reasons? But something about that doesn't feel right to you.
There is another way. One that doesn't drain you and that appreciates your uniqueness. It can be so much easier.
With introvert-friendly support, and some key insights about how to live your truth without the overwhelm, you can find the sure footing you need to do what matters.
It's amazing what's possible when you have the energy of group support.
It gets easier to move into your growing edge and even enjoy it.
The group structure that Val sets up is a very good container where I feel included and seen, and I have the time and space to ask for and receive the support that I want. Having community and support gives my nervous system the feeling of safety; when I feel safe and supported my fear and anxiety decrease, and this enables me to share my work in the world in a more authentic and vibrant way." ~Maureen
---
This group program is ideal for…
Women who are either already moving along on their transition, or who are working with Val individually to get established on a productive path.
Group Program Includes:
Monthly small group gatherings for members (approximately 4-8) with Val's facilitation, including time for exploring personal and professional growth topics and finding ease with what's most current for you.
Regular opportunities for connections between meetings, such as with an accountability buddy, or for technology hand-holding. This is a meaningful community of support.
A practical roadmap with guided homework between sessions to keep you on the most productive path.
Access to Val for email communications, such as career questions, between meetings. (I'm on your team all month.)
A secure online portal for your homework and for communications with Val, and lots of client-only resources.
Discounts on individual sessions with Val.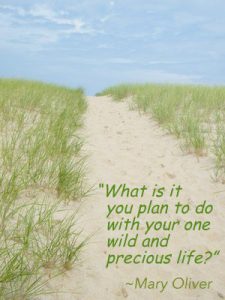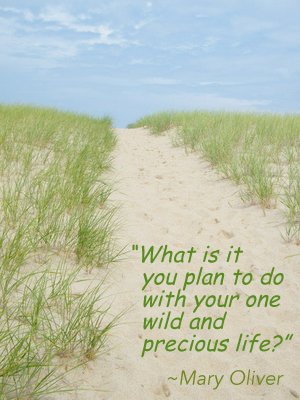 Cost
There are two tiers available:
$100/month for all group benefits above.
Designed for those on their way who want the addition of a group for camaraderie and support.
Custom plan/custom price for group program combined with individual coaching.
Designed for earlier stages of a career or life transition to ensure you find the clarity, confidence, and momentum you need.
In this group program, you will:
Feel energized and more confident, and take meaningful action between sessions.
Get simple tools to walk you through step-by-step, such as choosing what to say when networking.
Find your calm grounding. (Phew, we've been through a lot.)
Keep your spirit lifted as you move into new territory.
Have access to hands-on practical support for those technical headaches.
Come to refreshing clarity that there's no icky salesy stuff required to be successful.
Feel encouraged by kindred spirits who "get you."
Have access to quick feedback for your ideas.
Be connected to Val's large network for help with new connections.
When you combine individual coaching and the group, you will also:
Make some solid decisions about how to move your work life towards more sustainability, more fulfillment, and natural flow.
Learn to quiet that overthinking and self-doubting mind.
Get Val's support to help you gain the clarity, confidence, and momentum necessary for your journey.
Truly understand the amazing value you have to offer.
Grow your courageous voice from a grounded knowing place.
Create your personalized action plan that honors both your temperament and desire to have an impact.
Get real with making practical progress.
Val has helped me understand how to create an authentic life where I can define success on my own terms." ~D.F.
Now is the time…
We need each other. Especially now.
Let's form a strong community to keep our spirits lifted as we go through our personal, professional, and societal transitions. We can't afford to let life's turbulence pull us down. 
Now is the time
…To come together with others on a similar journey.
…To truly listen to your heart's callings.
…To move forward on your vision, step-by-step, from a confident strong place knowing we've got your back.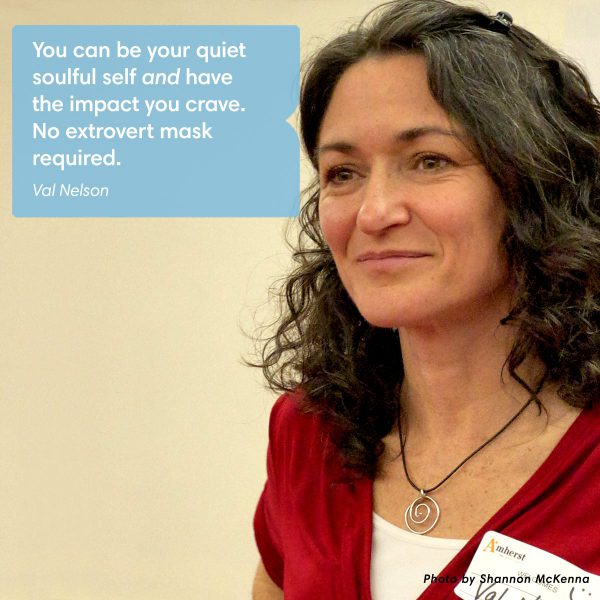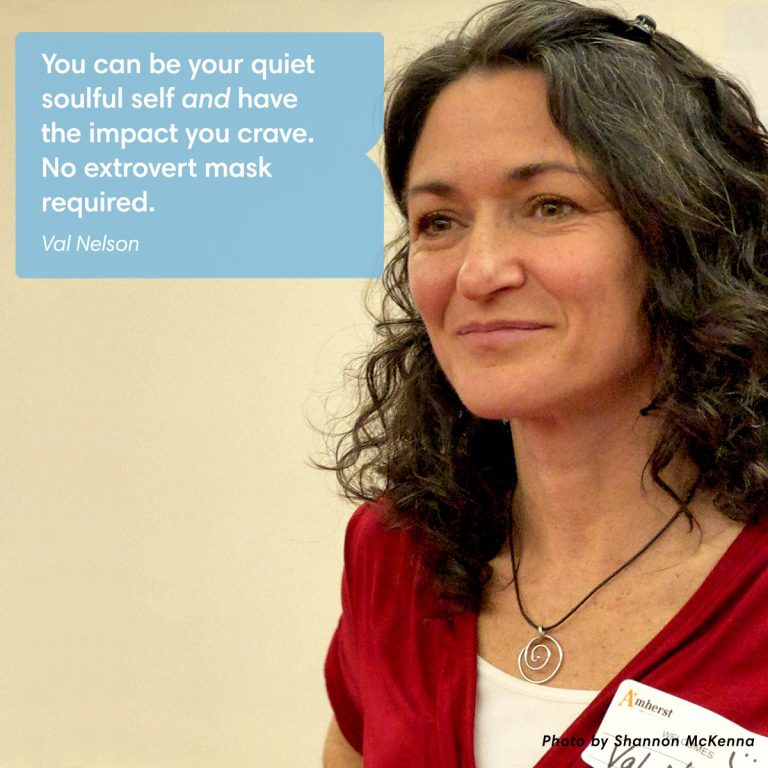 You're invited…
Let's talk about it. We'll have a phone chat to confirm the fit before you sign up.
_______________________________________
Questions?
Pop me a note at the bottom of the page,
and I'll get back to you quickly.
_______________________________________
---
Frequently Asked Questions
How can I follow my callings without the overwhelm?
On the one hand, you've got longings to do more of what you love, help out more, or connect more. Sometimes it's a whirlwind of personal, professional, and societal shifting all at once: "Should I quit my job? start a business? find my soulmate? find new friends? get involved in activism?…"
It can be overwhelming to imagine following these callings. Just the suggestion to "get out there" is enough to make an introvert feel drained.
But, if you don't listen to your heart, the consequences to your body, mind, and spirit are too high: tense shoulders, churning pit in your stomach, loneliness, heartache, or held hostage by an inner critic.
It can feel like a trap between the two options: follow your callings and get overwhelmed, or stay safe but still churning on the inside.
In the Swan Sisterhood group, right away, I'll give you some key insights to help you find your sweet spot for following your heart without the overwhelm. It's such a relief once you get it. 
---
Will I Fit in the Group?
All group members will have done at least one individual session with me before joining. If you haven't yet, let's schedule a coaching session for you, where we will help you find more ease and flow around your goals.
Group members might be working on one or more goals such as:
Career clarity and transition
Confidence to bring more of your voice and strengths to the world
Exploring self-employment
Personal and professional growth
Living your purpose
Opening up to dating or a new relationship.
Most typically, your goals will be a blend of many things. We're complex creatures, after all.
This group is about being true to you in all parts of your life. The same principles of finding your clarity, confidence, and momentum work for all kinds of goals.
---
What Is Val's Background for This?
I've been facilitating heart-centered groups of various kinds for 30 years, and now focusing for the last 7 years on groups for introverted women following their callings.
I'm a former wallflower who now feels confident and social, while still embracing my introverted nature. I've discovered what works for me to keep going and stay out of overwhelm.
My life's work is about helping other introverted women live a path that is true to who they are.
You might also want to know that I'm a long-time meditator, and a fan of Marianne Williamson, Tara Brach, and Liz Gilbert's book, Big Magic.
Since working with Val, in a very short time I can see immense possibilities where there were only questions. She keeps the focus, holds the keys of relevance, nourishes the psyche and instills the spirit with a sense of willingness, no, passion for the next step. ~P.W.
---
What Will It Be Like?
You'll learn the truth about introvert strengths, fear, tongue-tied moments, overthinking challenges, "imposter syndrome," and what it means to be a confident introvert who follows her truth.
We'll tap into mindfulness, journaling, poetry, story sharing, and other creative methods as ways to calm our systems, find inspiration, access our intuition, and build faith for taking important steps.
We won't shy away from words like meaning, life purpose, callings, soulful, spiritual, and meditation. We need to talk about what's in our hearts, but no one will impose their religion or beliefs.
It's a place to be yourself, without any judgment. Nothing is required. Both tears and celebrations are welcome.
You'll find your confidence growing which naturally leads to calm courageous speaking and action in many areas of your life. Imagine finding your voice with ease. It's possible.
The format is designed with introvert sensibilities in mind.
This presenter doesn't force you to be who you're not. She provides realistic strategies to work with who you are. ~Program Attendee
---
When, Where, How
Registration for joining is rolling, and your own start date will depend on openings in the group. There are openings now.
Videoconference group via Zoom
4th Thursday of the month
10:30am – 11:45am Eastern time U.S.*
(7:30am – 8:45am Pacific/ 3:30pm – 4:45pm GMT/London)
*Actual time could change by unanimous decision of all active group members.
Zoom is similar to Skype but with better quality.
Is There a Minimum Time Commitment?
The group is an ongoing community, where new members make a 3-month minimum commitment so we can form a strong community and go through some important explorations together.
---
Questions? Concerns?
Anything that comes up for you, just ask. I'll get back to you quickly. Use the form below to send your question. Thank you.
---
Better Together
As we saw during the 2017 Women's March, when women join together, we become a force for something greater than ourselves. It's a powerful and loving energy — such a wonderful combination!
Following our callings doesn't have to happen on the streets, in large groups, with loud voices. It can happen in quiet ways too, just as powerfully, and stemming from the same place of love and spirit.