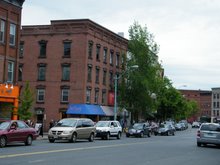 Small businesses are experiencing equalizing benefits with the use of social media. Now is the time for small businesses to rise again.
Can the Walmart era be ending? This is a very important time for small businesses. While the '95-2000 era empowered small business to sell things online, this current era [social media boom] is allowing them to get their message out to a wider audience, to target them and to differentiate themselves with greater effectiveness. In addition, they are now able to create and maintain a relationship with the customer based on trust.
— Microgeist, 6 Very Important Things That Social Media Resurrects
While I agree that social media can level the playing field if used correctly, Walmart is not going away any time soon. Read on.
Big Guys Trying To Seem Small
Even big chains like OfficeMax, Walmart, and Lowe's are making mini versions to get in on the "corner store" action. This week, The New York Times explored the store-shrinking trend in "Mini Versions of Big-Box Stores."
Of course the down economy is forcing some of their downsizing, but they hope to realize other benefits connected to smallness — such as attracting new customers with more personalized service and convenience.
What's Next?
In today's highly-transparent market, authenticity will win. Small or big, many businesses are becoming more consumer-centric and focused on sustainability, and many are not.
Whoever learns how to rise above the noise online with an authentic consumer-centric focus will survive. Will that be easier for small business or big business? The small potatoes can compete more easily today, thanks to new media opportunities, but they'll have to use the right strategies.
Everyone is experimenting with their approach in this economy and I have faith that we're going to have something better on the other side. Better for people, planet, and profits.