I learned an important lesson about the heart when I went to my father's funeral many years ago. The day he died, a friend came over and took me for a walk in the February chill and listened to my worries.
I told her I was afraid I couldn't handle all the emotions, and that I was especially afraid to be at the funeral and feel raw emotions in front of everyone when I felt so vulnerable. It was one of those major shy moments when I wanted to hide.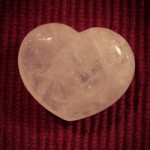 She gave me a gift that has helped me with that fear ever since. She gave me a rose quartz heart to keep in my pocket. She said it was a symbol that I could be strong like a rock, and have an open heart at the same time. I started to imagine that maybe strength could coexist with an open heart.
So I tried it at the funeral.  Continue reading →