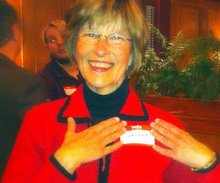 During holiday season, party survival is on a lot of introverts' minds. And it comes up year-round with all kinds of events or conferences.
Let's get real with this. Here's what happens to me and what works to stay out of trouble.
These same "party survival" tips below apply to all kinds of social events, from networking gatherings to conferences.
I have a love/hate relationship with parties. Even with all the stars aligned at a social event — nice people, nice environment, good conversation, fun dancing — I can find myself hitting a wall and ready to scram early.
When that happens, my inner critic can start telling me I'm being rude, and people will think I'm a jerk, and before I know it, I'm forcing myself to stretch past my limits, and then it can get worse! I turn into a wall and end up crashing later (both my energy and my mood), and that's not good for anything.
There is a better way. It takes gumption to take a stand for your needs, but it can really save your well-being and support those valued connections with others. I hope the ideas below can help light an easier path for you. It's helping to re-light the path for me as I write this. We're in this together.  Continue reading →