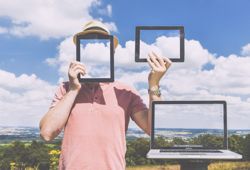 Every year I go to a fun relaxed day of learning called Podcamp, where we learn from each other about the latest in social media.
As I think about what social media topics most interest me, the one that rises to the top is how to stay out of the addictive nature of social media. So I decided to sort out my thoughts about it here and then maybe I'll lead a session on this topic.
I think I'll even ask everyone in the session to power down their technology, and find out what happens. Withdrawal? Real connections?
Here are my thoughts about the problem and some solutions. And don't miss the fun Muppets video that will give you some relief right away.  Continue reading →