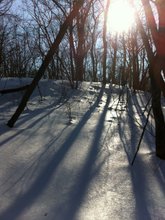 Do these everyday shadows sound familiar? Plaguing self-criticism; wondering if you'll ever reach your dreams; spiritual angst; loneliness; winter blues; or plain ol' stuck-on-the-couch days?
We each have our internal or hidden struggles — our shadows. Yes there are also the big tragedies in life that we know all too well, but today I'm talking about the internal stuff.
On a recent stuck-on-the-couch day, I drew an angel card that said, "What you perceive to be your dark side holds a hidden treasure." Hmmm. It rang true.
After sitting with that message for a bit, it led to a major breakthrough because I looked closer at the shadow and saw the amazing gifts there that I needed to bring to my work. The light returned. What a release! It reminded me of this awakening I had earlier: Your "Worst" Trait Could Be Your Superpower.
What does this "hidden treasure" mean, in a practical sense, for coping with our shadow side?  Continue reading →