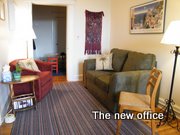 Here's my Spring 2010 update after being at this self-employment journey for a little over a year.
I'm a bit sporadic with my blogging. Yep, something has to give sometimes.
I notice a lot of my fellow business owners let their blogs take a back seat sometimes. If that's you too, that's OK. Blogging is great (why), but it's true that you have to focus first on the lowest hanging fruit when you're trying to earn a living.
So, for today, instead of a regular blog post, here are some snippets from my world, kind of like the best of my Twitter updates. Continue reading →