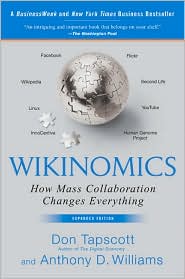 You've probably heard "Web 2.0" thrown around but even people who say it don't always know what it's about or why it's so important.
And now people are adding "2.0" to everything: Business 2.0, World 2.0, Learning 2.0, etc. So what's up?
"2.0" is a playful reference to a cultural shift in who's got the power. Everyone is in charge now, not just traditional media, politicians, doctors, or big business. For example, isn't it amazing that anyone can edit Wikipedia, and it's such a valuable resource?
Remember when Time's person of the year in 2006 was YOU? That was describing Web 2.0, when you and everyone noticeably took the reins.
2.0 Changes the Whole Game
So-called consumers aren't just consuming anymore. They are co-creators. They're posting reviews, videos, blog posts, and spreading messages faster than traditional media can manage.
All this power to the people is a great thing but tough for everyone to fully grasp  — because it's such a major paradigm shift.
What This Means for Your Organization
World 2.0 means everyone is now in charge of what's said publicly about your organization. And your communications approach has to adjust to that. 1.0 methods aren't enough anymore.
For starters, search Twitter for your topics and your brand and see what's being said.
Popular Books Trying to Explain World 2.0
The titles alone give you something to think about:
Here Comes Everybody: The Power of Organizing Without Organizations
The World Is Flat: A Brief History of the Twenty-first Century
The Starfish and the Spider: The Unstoppable Power of Leaderless Organizations
Wikinomics: How Mass Collaboration Changes Everything
Groundswell: Winning in a World Transformed by Social Technologies
Tribes: We Need You to Lead Us