I've collected some books here that inspire me in all kinds of ways, in life, work, and spirit. Everything I've chosen to pass on is well-written, inspiring, and full of real-life depth. They're also well suited to the sensibilities of introverts and highly sensitive people (HSPs).
I love books so much that the list got a bit long so I've put them into categories:
Big Inspiration and Soulful Living
Introvert Power and Inspiration
Highly Sensitive People (HSP)
Authentic Business/ Self-employment/ Solopreneurs
Career and Workplace Issues – Holistic Guidance
Leadership
Speaking and Communication Ease
Fear, Courage, Confidence
Mindfulness, Inner Peace, Self-compassion
Feminism, Social Justice, Racial Justice
Novels and Memoirs that Introverted Women and HSPs Will Love
---
Big Inspiration and Soulful Living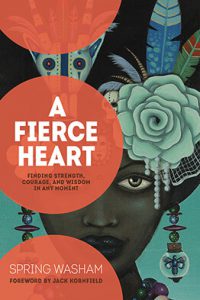 A Fierce Heart: Finding Strength, Courage, and Wisdom in Any Moment, by Spring Washam
Real life stories and inspiration from a very wise soul who has faced a tough path and found a path that brings her peace and courage.
The Alchemist, by Paulo Coelho
An inspiring fable about how to hear your heart's callings and live into your true path.
Big Magic: Creative Living Beyond Fear, by Liz Gilbert
A personal and inspiring look at facing fears and letting your creative juices flow, in a seemingly magical yet down-to-earth way.
God Has a Dream: A Vision of Hope for Our Time, by Desmond Tutu
Inspiration from Nobel Peace Prize winner Desmond Tutu of South Africa, on how he stayed and stays positive through it all. He defines "God" in very broad and inclusive terms.
Callings, by Gregg Levoy
A deep look at what are callings, how to hear them, and what to do with them.
The Gift of Change, by Marianne Williamson
To help you embrace any change you're facing.
Spontaneous Evolution: Our Positive Future and a Way to Get There From Here, by Bruce Lipton
Intriguing revelations from a scientist about how the body and mind work (different than most of us think), and how this awareness could help us turn toward something more honest, nature-aligned, and freeing.
Man's Search for Meaning, by Viktor Frankl
A life-affirming classic, by a man who survived a concentration camp during WWII, and founded a new school of thought on finding meaning in life. Interesting take on how the most sensitive seemed to survive best.
The Hidden Life of Trees: What They Feel, How They Communicate, by Peter Wohlleben, 2016
I enjoyed this so much, and it helped me tap into deeper wisdom about the web of life. If you're a big nature fan like me, you'll enjoy this dive into the beauty and magic of it.
Introvert Awareness, Power, and Inspiration
Especially for Highly Sensitive People (HSP) 
Authentic Business/ Self-employment/ Solopreneurs 
Career and Workplace – Holistic Guidance for Joy at Work
Money Issues
Leadership
Regenerative Leadership: The DNA of life-affirming 21st century organizations, 2019. This is concrete and paradigm-shifting in a way that I love.
Inclusive Conversations: Fostering Equity, Empathy and Belonging Across Differences, by Mary-Frances Winters (2020)
Co-Active Leadership: 5 Ways to Lead
– A short fun read painting a doable collaborative style of leadership.
Dare to Lead: Brave Work, Tough Conversations, Whole Hearts, by Brene Brown
– How to build the courage muscles needed for real leadership, from the heart, from a leading researcher and consultant on courage and vulnerability.
The Introverted Leader, by Jennifer Kahnweiler
– The assumption that leaders must be extroverted is debunked. Good insights for all leaders and organizations so we can benefit from the gifts that introverts bring. A short easy read that will boost your confidence.
Creating Introvert-Friendly Workplaces, by Jennifer Kahnweiler
Speaking and Communication Ease
Fear, Courage, Confidence
Mindfulness, Inner Peace, Self-compassion
Women, Feminism, Social Justice, Racial Justice
Novels and Memoirs that Caring Introverted Women and HSPS Can Love
If you're a book lover like me, especially of inspiring books for women, you'll find more goodies at A Mighty Girl's Books of the Year (something for all ages).