This is a funny combo of quiet and outspoken, and I know I'm not the only one:
I'm a recovering "good girl" who now openly questions the insane harmful systems that dominate around the globe.
In other words, I used to be too quiet in an attempt to seem "good" and stay safe (beyond the normal level of the positive quiet of introverts). Now my desire for the Greater Good is winning out and I've become more outspoken, more and more each year.
I am determined to be part of moving from the dominant broken paradigm (money-driven and violent) to a life-affirming, nature-centric paradigm.
I know. It's a long journey but I am finding it very joyful along the way. It's way better on this road than the old one.
A nature-centric world view is what research has shown me is the true ancestral heritage of all humans. No wonder it feels so much more true to my own nature.
This true nature paradigm has been alive all along, sometimes in the shadows and in Indigenous cultures around the globe, and it is expanding, despite pressures against it.
This paradigm shift expansion is part of why there's repression of it, because people who hold power don't want that to change and they have a lot of power to manipulate and repress. Grrrr.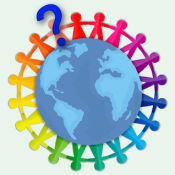 My truest work is about helping other introverted paradigm-shifters to find their place in this unfolding.
It might sound scary on the one hand to join in the shift, but a sense of truth is the freedom we crave anyway. Truth will lift your spirits and it all gets easier each step of the way.
I'll share some examples and how paradigm shifters need each other. Continue reading →