I want to share more inspiring stories of introverts and/or highly sensitive people (HSP) who are living their purpose, with a sense of balance too. I'm sharing an introvert profile today.
I thought you'd like to see these stories for inspiration on what's possible, and on what's positive in the world right now. Yay for good news! And this story packs in a lot of it.
Meet Ruby Maddox
Here's a few excerpts from a longer interview we recorded in 2022 about her self-employment journey, so you can get to know her better:
[Check out full interviews inside the Bridge to Self-employment course.]
Ruby's Career Background
I first met Ruby at a conference where she gently yet confidently shared about a non-profit she co-founded and co-directs. I became an instant fan.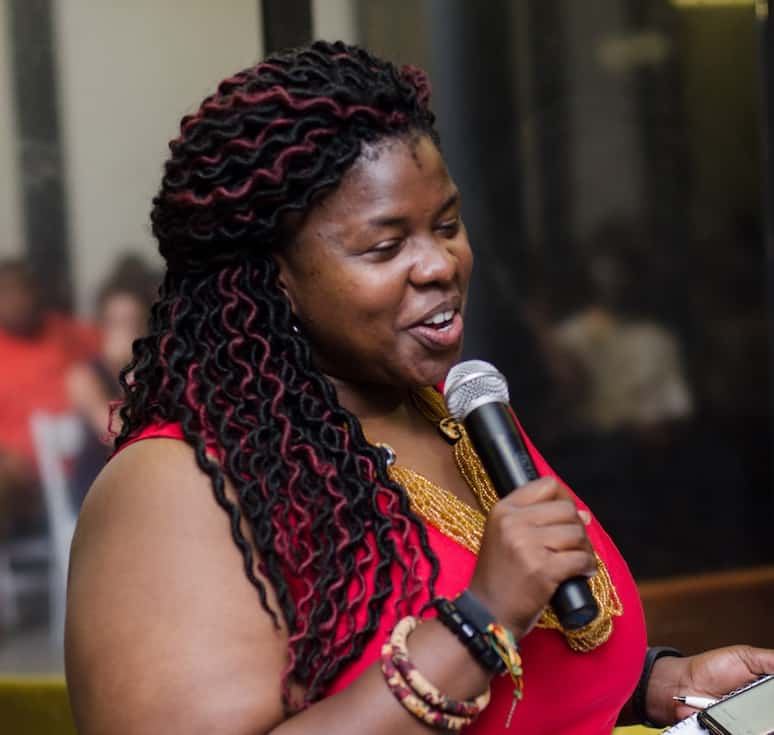 She shared about Leaders of the Free World (LFW), an international experience (to Ghana in West Africa) and leadership development program for young Black men.
Since then, I learned she has spent more than 15 years working in the field of nonprofit management and philanthropy, much of that time at Mt Holyoke College. She also has a master's in nonprofit management and philanthropy from Bay Path University.
I was thrilled to hear she also co-founded Gardening the Community (GTC), a youth urban agriculture program in Springfield, Massachusetts, which happens to one of my favorite local non-profits to support and amplify.
She has been a TEDx speaker (on Purpose) and the recipient of the 40 Under 40 Business and Community Leader's award.
Ruby's Current Work Life
A big focus for Ruby now is helping others move from aspiration to purposeful action through her business, Direct Your Purpose. She is a Purpose Coach for leaders and change-makers, a strategic consultant for non-profits and businesses, and a workshop facilitator. It's all dedicated to helping people cultivate their potential for meaningful contributions to society.
I keep thinking her clients are so lucky to learn from someone experienced, wise, and calm.
She is fully self-employed and focused on both Direct Your Purpose and Leaders of the Free World.
Yes, you can make a living doing meaningful work like this.
Interview Snippets:
How do you maintain a sense of balance?
Finding balance is all about working self-care rituals into my schedule. My morning ritual includes listing:
1) Things I'm grateful for.
2) Reasons why today will be awesome.
3) Top 3-5 priorities for the day.
4) How I will nurture myself today.
Accountability buddies help too.
What helped you take the self-employment leap?
I had been working the business as a side-hustle. I had many fears, but I saw that my business was becoming more consistent. That gave me some confidence. The biggest thing was when I reached out to a mentor of mine (who had been a business owner in non-profit consulting for years) and she provided me the support and encouragement I needed to move forward.
To stay tuned with Ruby's work:
DirectYourPurpose (DYP), DYP on Instagram, LFW on Instagram.
Lessons from Ruby's path…
I know that's a lot of amazing accomplishments and it can sound intimidating if you think she did it all in a day. No way. Her story doesn't mean we all need to do something similar to have a meaningful impact. That's Ruby's path. It can look so many other ways.
There are underlying principles we can learn from others' stories. For instance, these themes are coming to me as I take in Ruby's story.
A good morning routine can help us stay calm and balanced. (Ruby's routine got me thinking about some of the daily rituals that feed me too. I think I'll add in a couple new things from her list.)
So much can be accomplished when you dream big yet focus on step by step. The little things really add up into a positive feedback loop, for achieving what you're here to do.
Combine all that with letting in colleagues to partner with you. The word "co-founded" in her story is key.
A caring and knowledgeable mentor can help you take informed and courageous leaps.
Plus it's worth emphasizing this point: Introverts can be great leaders, speakers, and entrepreneurs, as Ruby's story proves. We just need to do things our way, that works with our energy needs.
Wondering about your own path?
You might like these resources: