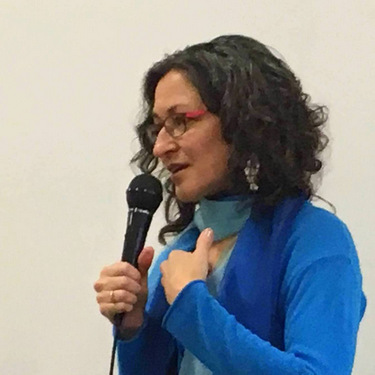 All my speaking and workshops are especially designed for introvert sensibilities but the principles are applicable for anyone. No matter what, I speak from the heart about what's real.
Please subscribe to get the announcements when new events are announced.
Below you're find upcoming events, self-study programs, ongoing groups, and more.
---
Coming Soon
"How To Know the Best Use of You — in Changing Times" (Workshop)
Date TBD (likely Summer 2020)
The world around us keeps changing, and so do your own circumstances, and sometimes it's time to rethink your direction.
Whether it's your career direction, your business direction, or how to be of use in retirement, come learn a framework to help you figure out the "best use of you," and how to move into it in concrete ways.
Discovering the best use of you can be easier than you think, and so fulfilling when you find your fit. It's also important for the world so your best gifts can flow for the good of all.
~ ~  ~ ~ ~ ~ ~ ~ ~
"I Love My Client Work, But I Hate Marketing. Then What?" (Workshop)
A Fresh Perspective on Attracting Clients, that Even Introverts Will Love.
Date TBD (likely Fall 2020)
If the thought of marketing makes you feel anxious or drained, I'll help you step into a new perspective —where effective marketing can fit inside your comfort zone.
I am an introvert who discovered more ease with marketing and now have a steady coaching business (helping other introverts). I will teach you some simple principles to make marketing work for you too.
Especially for caring introverts who are coaches or healing arts professionals.
---
Self-Study (Available On-Demand)
Coming Soon:
Introverted Solopreneurs…
A Practical Map for Resiliency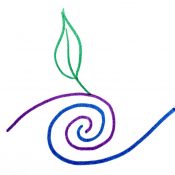 Learn practical and doable steps to deepen your resilience in a shaky and unpredictable world. It does NOT require selling your soul or doing anything that doesn't feel true to you.
$35 USD
No cost if any of this fits:
You are currently challenged to make ends meet.
You are Black and/or Indigenous.
This is not charity. It's in solidarity, and it's a step toward reparations.
---
Self-Study: Grounding Body and Mind for Sensitive Souls — Available Anytime with EFT
My clients have big hearts and they can be at risk for overwhelm from others' energy, the news, or our inner critic.
As a highly sensitive introvert myself, I've had to find good grounding methods so I can keep living my purpose without exhaustion. EFT has become one of my go-to methods for stress moments, inner critic moments, getting back to focus, and even getting to sleep.
I co-created this program with an EFT specialist to share what works for grounding and EFT (Emotional Freedom Techniques), sometimes called Tapping.
By watching the recording, you'll come away with:
A little more calm in your body.
Inspiration for incorporating more grounding so you can thrive while keeping your heart open.
Learn and practice EFT for grounding anytime.
Take-home instructions to use EFT on your own.
Available now, on-demand.
---
Authentic Online Marketing Methods that Even Introverts Can Love.
For self-employed helping professionals like Coaches and Wellness Practitioners.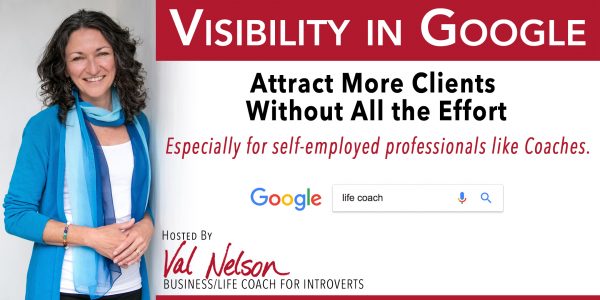 Many thousands of people are searching Google for life coaches and similar professionals. If they're not finding you there now, they could be, with some simple steps.
Getting found in Google is easier than you think once you understand a few basic principles that I share in this webinar. 
Available now, on-demand.
---
Ongoing Group Programs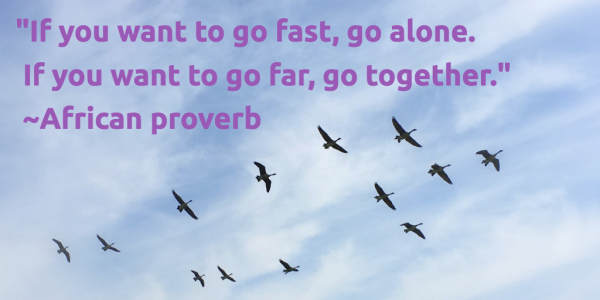 I host groups for introverts related to different topics. In each group there's a combination of learning and camaraderie, and we work through a simple curriculum together.
Introvert SOULpreneurs
Explorers (while exploring self-employment or other creative career ideas)
Mentoring Group for Business/Career Coaches
---
---
Recent Podcast Interviews.
You can listen here:
---
Speaking Availability
I am currently limiting my speaking so I can focus on other priorities. If you have a great speaking invitation I can't refuse, please contact me. See my speaking page for topics.
I've been a speaker at numerous organizations and events including Harvard Business School, Mount Holyoke College, Massachusetts Small Business Development Centers (MSBDC), Holistic Chamber of Commerce Western Mass, Annual Women Business Owners Conference, Women Business Owner's Alliance (WBOA), Amherst Area Chamber of Commerce, Easthampton Chamber of Commerce, Univ. of Connecticut, Bay Path College, Hidden-Tech, Podcamp Western Mass, Western Mass Coaching Alliance, and UMass Amherst Alumni Association.
I've also enjoyed being interviewed — for radio, podcasts, blogs, and articles.
About my speaking topics and media interviews >>
Recent Talks
"I Love My Client Work, But I Hate Marketing. Then What?"
International Coaches Federation – New England Chapter (ICFNE)
Dec. 2018
"Pricing and Packaging Your Heart-centered Services"
The Quiet Collective Conference for Introverted Women Entrepreneurs
March 2018
"The Role of Intuition in Running Your Business"
Women Business Owners Alliance
January 2018
"Networking Secrets from an Ex-Wallflower"
Mount Holyoke College Alumni Association
S. Hadley, MA – Dec. 2016
Harvard Business School, Dynamic Women in Business Conference.
Boston, MA – Feb. 2015
My session: Networking Secrets from an Ex-Wallflower
---
Want to Be Kept Informed of Events?
Please subscribe for updates to be sure to get notification of new events, courses, and related opportunities. I won't spam you or give away your information.