We were so pleased to have Val as our first speaker for our new Holistic Chamber of Commerce chapter in Western Massachusetts. Val's topic and reputation drew a sizable crowd (including news coverage). The best part about having Val as a speaker, aside from the fantastic information she shares, is her welcoming presence. Even though she's a "former wallflower" Val really holds a room. Thank you!"

~Gretchen Duhaime, Massachusetts Chapter President, Holistic Chamber of Commerce
Available Topics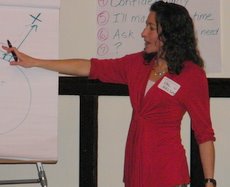 These are my favorite topics for speaking and being interviewed:
Depending on audience size and the amount of time, I speak in an interactive way so that the audience is engaged in the learning. All interactive portions are supportive of introvert sensibilities.
Speaking Experience
You can see my recent public speaking list below for concrete examples of my experience. Also, I have training in teaching and adult education and I spent many years teaching both youth and adult audiences.
I understand what it takes to get an audience engaged and learning. Speaking and facilitating learning is in my natural flow zone, despite being a former wallflower who never wanted to speak in front of a room. It's funny how far I've come.
I tend to get good feedback wherever I speak, so I think I have a natural ability to read my audience, engage with them in meaningful ways, and ensure they leave with meaningful insights.
Here are a few clips from a keynote talk I did at a Women Business Owners Conference:
Speaking Fees
Fee depends on the audience, location, goal of the event, and cost of the event. Please inquire. Let's find a way to make it work for you and your audience.
Recent Public Speaking
Harvard Business School, "Dynamic Women in Business Conference," Feb. 21, 2015
Women Business Owners Alliance, Holyoke MA, 2014, 2013.
Holistic Chamber of Commerce of W. Mass, Hadley, MA, April 2014
Easthampton Chamber of Commerce, 2013
Western Mass Coaching Alliance, Northampton, MA, May 2013, 2011, 2010.
Bay Path College, Springfield MA, Oct. 2012
Teleseminar: An Ex-Wallflower's Networking Secrets in a Nutshell September 2012.
Amherst Area Chamber of Commerce, 2012
Univ. of Connecticut School of Social Work, 2012
Keynote at 18th Annual Women Business Owners Conference (Mass. Small Business Development Center), 2011
UMass Amherst Alumni Association, 2011
Women's Business Owners Alliance (WBOA) in association with Bay Path College Kaleidoscope Series, Sept. 2011
Western Mass Business Expo, 2011
Massachusetts Small Business Development Centers (MSBDC)
Western Mass Podcamp (Social Media Conference)
2014 topic: Find Your Sweet Spot for Online Marketing, and Drop the Shoulds.
2013 topic: Are Introverts Better than Extroverts at Online Networking?
2012 topic: Personal vs Professional Persona Online
2011 topic: What Sets Your Business Apart — Online and Beyond?
2010 topic: Connecting Online and Offline Networking
Hidden-Tech, Northampton MA
Women & Spirit in Business Café
See also: past media coverage.