It seems like everyone is craving work/life balance but they seem to have no idea how to get there.
I recently got caught up in the New Year's go-go-go pressure and found myself losing that relaxed feeling I know I need.
Why is balance so elusive?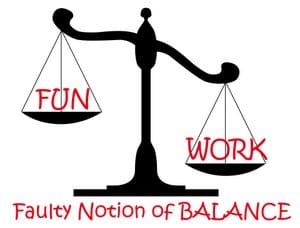 The problem is our either/or thinking when we think of the word Balance. We picture a scale where the two sides have to battle it out, and something always loses. We sacrifice work or we sacrifice the other parts of life.
In many cases, FUN and WORK are working against each other in our minds. Work gets equated with the "have-to" feeling instead of the fun feeling, and we think we have to push push push or it isn't really "work." We even say things like "It feels like work" when we really mean "It feels like drudgery." This flawed thinking is embedded in our language.
But it's tiring to have work be like drudgery. We start losing energy for work and after work. Both sides of the scale end up losing.
This seesaw image is so entrenched in our culture that you're probably skeptical that there is any other way to think of it. Bear with me. This is why you can't find balance.

[Keep reading for a video explanation of the problem and the solution.]
Living on a seesaw like that is not solid ground and you can't find balance that way. We feel drained by the endless effort to steady the seesaw. And we blame ourselves for failing. You might give yourself a label like "bad mom" or "bad at work," and then you get even more drained. Ugh.
Work and Fun Are NOT Opposites!
Work should be fun and that's an essential way we find the ease and breathing room we are craving. It also leads to more success. Really.
Apparently I forgot this "fun work" concept in the midst of my New Year's rush energy, and my own coach had to remind me to slow down and remove anything on my work to-do list that wasn't FUN. Ohhhh, right!!
It was scary at first to remove those seemingly essential money-producing items. But then I got it that those non-fun things wouldn't work in the long run if I had to push my way. That stuff doesn't work.
I re-learned that when I follow the fun feeling, or downstream flow, everything I need flows from there. And wow, it's already working! My energy is back! For the right things.
This "work versus fun" notion is the flaw in that old-school concept of balance. Work CAN and should be fun if it's going to be sustainable and lead to true fulfillment and success.
When you accept work as drudgery, it is a recipe for burnout, mid-life crisis, ….or a heart attack. It does NOT have to be like that.
Look for Work-Life Harmony Instead of "Balance"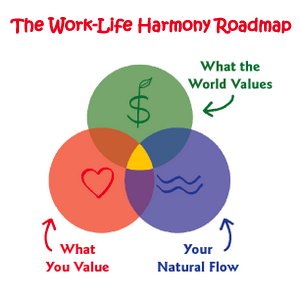 Instead of looking for balance, with its inherent seesaw connotations, look for HARMONY instead.
Harmony is where these 3 needs all come together in your golden sweet spot.
Work-Life Harmony is where you find the fulfillment, success, and relaxed feeling you crave.
Work-life harmony means your work is in harmony with your heart and in harmony with what feels natural and fun. And it's in line with what the world needs and values.
When you look at the diagram, is there one particular area that feels missing in your work?
It's possible to find that golden sweet spot… even for you.
I created a video to help explain more about the problem and the solution. See:
The Work-Life Harmony Roadmap™ (includes Video)
These might help too: