You've probably heard the word solopreneur to describe a one-person business. But does the word inspire you? It doesn't inspire me. It feels so… lonely, lifeless, and businessy in a negative sense.
Now compare it to how you feel when you hear the word SOULpreneur. Are you starting to smile, or at least feel intrigued?
When I switched to seeing myself as a SOULpreneur, I felt inspired. For instance, it reminds me to let creative inspiration come from a deeper soulful or heart-centered place. Not just from an income-need place. And things work so much better from this angle, for my happiness and my wallet.
To give you a closer look into what I mean, here are my associations that can naturally arise with each word, and this seems to be true for many people when I share these words:
Solopreneur:
All alone.
Money-driven.
Boring and uninspired.
Wearing all the hats.
Spinning in circles.
Overwhelm.
Scarcity thinking.
Worried about competition.
No time to rest or have fun.
High risk of burnout.
Always something to fix.
Swimming upstream.
SOULpreneur:
Aligned with both my heart and my wallet. A yin/yang balance.
Work as an expression of my true purpose.
Connected to something bigger and meaningful.
Inspiration starts from the heart, or from soul guidance (or a wise inner compass).
Easily connecting to kindred spirits in a collaborative way.
So-called "competitors" are seen as niche-mates to connect with.
Trusting that rest and mindfulness are important to my life and my work.
Trusting in the natural abundance of the Universe.
There's nothing to fix. It's about allowing a natural flow.
Swimming downstream.
This is the image I drew when thinking of SOULpreneur energy: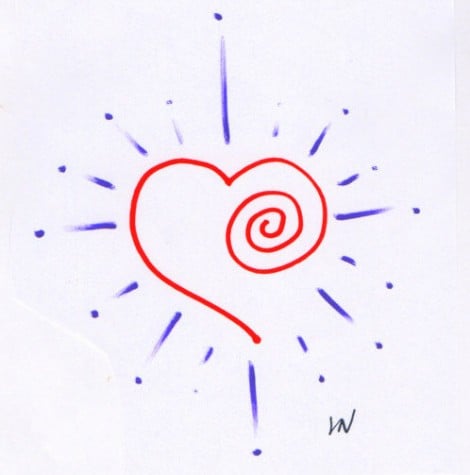 How do you make the switch?
Are you wanting to switch from the solopreneur lifeless mode to the SOULpreneur energy of connectedness, ease, fulfillment, and sustainability?
It starts with just knowing there's another way and starting to envision yourself there. Lean towards that image with faith, going step by step to see what happens.
I host groups for SOULpreneurs and groups for Explorers (considering self-employment or other creative career options) to help you move in that direction.
I'd love to hear from you with any insights, comments, or questions.
+++++++++++++++++++++++++++
Feel like reading more about the SOULpreneur perspective?
I've written a few posts you might like: