Sometimes you just feel knocked off your feet by a big life change — maybe after the death of a parent, a divorce, or losing your job at mid-life.
It's enough to make you question everything. You can feel lost for a while, wondering anew who you are and what is your purpose?
I understand this from firsthand experience. That's how it felt for me when I went through a death of my father. It's also how I felt during a big career transition.  And that's how it has felt for the many people I have helped to make it through those identity-shaking times.
I'm a better person on the other side of loss, but it's not as simple as "When one door closes, another door opens." Because the missing line is, "it's hell in the hallway."
My Story of Loss and Transition
After my father died suddenly when I was 33, I was a bit thrown for at least a year. Most people my age had not been around death at all. My friends couldn't relate to what I was feeling. I can see today that it was a spiritual journey I was on, and part of the stress of it was that people didn't get me.
On the inside, it felt like there was a rip in the Universe that felt disorienting and intriguing at the same time. Where could I talk about that?
Strangely, this wasn't as stressful as it sounds, on the one hand. It was like a fascinating sci-fi movie that was waking me up to something so much bigger than myself. My dreams, visions, and insights were profound during that time.
But feeling alone with it was hugely stressful. I didn't know how to relate to anyone for a while.
That period of not feeling understood led to a long depression, changes in friendships, a much-needed breakup, and a job change. It was a rocky, life-changing time to say the least! Over time, I did some soul searching to find what was true for me and how to live from that truth.
I am better for it all. Grateful for it all. My faith in life, and acceptance of death and loss, is now very deep. I see now that it didn't need to be so hard and I want to support others in making it easier, and making room for the metamorphosis that is trying to come through you.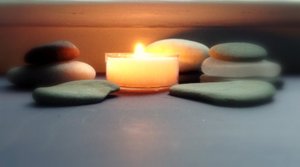 My Experience Helping Others with Grief and Loss
I worked for six years in a Hospice agency and loved it. I felt deeply appreciative for every moment of being alive, and grateful to be up close with people facing the ultimate life questions. I learned how to be with it all and to maintain my own inner calm.
The people I helped during my Hospice job, including the volunteers I trained and supervised, have told me how much they appreciated my calmness, empathy, and support.
Eventually my career path led me to start my own coaching business, where my clients often come in after the loss of a parent, a divorce, job burnout, or empty nest transitions. They were feeling off-kilter, questioning their purpose. After a little time together, I've heard them say things like this:
I've gone from feeling hopeless and helpless to empowered, capable, and growing. I came to Val feeling burned out. With Val's guidance I feel alive again."
More recently I experienced another death in my life, and what a difference this time. I was able to be fully present with the spiritual journey of it, without all the stress or feeling alone. What a gift. A huge gift. My heart is wider than ever and I feel so alive, even while I feel the grief.
Now it's time for me to add grief and loss to my coaching specialties. Or rather, to name it publicly, since it's been there all along.
As I write this, I can feel my heart saying Yes! I'm tearing up thinking of the joy of helping you through a foggy patch, and for the pain of where you might be in this moment. I want to help you find your solid ground. It's there.
A Little Encouragement for You and What's Next
It doesn't have to be so hard. You don't have to be alone with that confusing time. Loss doesn't have to be a heart-break. There's heart-broken, and there's heart broken open. Let's talk about the difference.
I provide a safe container where you feel understood. And I can help you piece things together to live into the person you're now becoming.
Val has a way of creating a comfortable space, and at the same time, really taking you to the limit to unleash your fullest potential."
Counseling or Coaching for Grief?
If you're in the acute stage of grief after a death (especially of a spouse or child), a bereavement counselor or specialist is often the best next step, and that's not me. It's just time to deal with the shock and coping with getting through each day.
In those cases, I recommend my beloved wise colleague, Teresa Weybrew, a life coach with grief specialty. She is ready for acute grief such as loss of a spouse. Her business is Heal Through Love, and I think you'll see on her grief coaching page how much she gets it.
If you're past the acute stage and ready to think about things like who you're now becoming, what's your life purpose, or explore your evolving spiritual beliefs, or what's next in your life, that's where I can come in.
Feelings are healthy and normal. There's nothing to fix. I'm good at helping you understand emotions and at knowing when therapy is needed or not, so we can discuss that.
My focus is coaching for the introverted woman who wants to reconnect to her true self and true purpose. If that sounds like you, let's talk.
Let's Talk
Do you want to schedule a call to chat and get acquainted? I look forward to hearing from you. Please request a free initial call to get the ball rolling. I hold everything in confidence and with deep respect.