Coaching for introverted or highly sensitive women…
so you can have:
More EASE. More YOU. More IMPACT.
My coaching clients are making progress on things that were stuck for years.
Val gets results! In addition to her incredible insight, intuition, and creativity, her calming strength provides the perfect space in which to flourish. Her unwavering support encourages me to take steps into areas of personal and professional growth — bountiful areas into which I would not have otherwise ventured. Thanks Val! You're awesome!
~Kelli, Eastern MA
Imagine breaking free of things you thought were completely stuck! Whether career or business clarity, getting started on a dream, and finally say No to the wrong things and Yes to your truth.
I've seen the transformation happen in so many people and I've experienced the power of coaching myself. It still amazes me every day. [Client Stories]
I believe that introverted women and highly sensitive women have a unique perspective that the world needs, unique talents to offer, and yes, some unique challenges too. I love helping these women find their true path and follow that in their own way, aligned with their heart and their energy. That's my story too. I'm with you.
_______________________________
Can it work for you too?
Quiz: Will You Benefit from Coaching?
_______________________________
My Coaching Specialties and Approach
You might call me a life coach, introvert coach, career coach, small business coach, life purpose coach, life transition coach, or dating coach for introverts. It's always about helping people live, work, and love in a way that's true to who they are.
Even if we're talking about growing your business, I always include your whole life in the equation, not just your work life, because you're ONE person and you want to make a life, not just a living.
I bring an intuitive heart-centered approach to my work and I enjoy helping those who value those qualities. I'm not about a quick-fix or pushy approach.
My experience and education make me especially suited and excited to offer these coaching specialties:
Who
I help primarily introverted women who relate to at least one of these groups:
Feeling challenged about your self-employment journey such as charging what you're worth or promoting their work.
Wanting to bring more intuition, spirit, heart, or alignment into your life, livelihood, and relationships.
Feeling thrown off by a big loss or transition and needing a safe harbor to grow into who you are becoming.
Wanting to understand how to make choices that you'll be happy about.
Needing to navigate life alongside your high sensitivity to the environment and energy around you.
If you want to work and live in a way that's true to who you are, you're probably right up my alley!
I don't coach people who:
"Just need a new job."
"Just need more money." (I do help with earning a living but only in a broader heart-centered context.)
Want a quick fix.
In-Person or Phone Meetings
I enjoy working with people in my area (Northampton/Western Massachusetts), and with people outside the area. Phone and in-person coaching are equally effective.
When meeting in person, we meet in my office in Northampton.
My Qualifications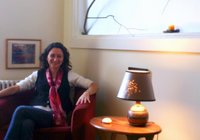 I have completed a world-renowned coach training program (CTI) which is accredited by the International Coach Federation (ICF). I am dedicated to following the ICF's ethical standards for coaches.
Being a professional coach is the culmination of my lifetime's work helping people find solid ground, and inspiration to reach higher. It integrates all my experiences, including as a health educator, Hospice experience, human resources manager, small business manager, entrepreneur, mentor, marketing and communications specialist.
And personally, I've been there… as a wallflower not speaking up… on the job burnout track… fearing the self-employment leap… living through the shaky ground of big loss and transitions… feeling too sensitive for a fast-paced world… you name it.
With the help of a coach, I got clear and unstuck about my career and life journey and am now successfully self-employed and living my life purpose, in my own way. And I have found and married my soulmate at mid-life, from a deep place of Knowing from my true heart. I'm so grateful for this ongoing journey of listening to and trusting my own callings.
What About Spirituality?
I love these kinds of subjects. Let's find what works for you and tap into it! I don't impose any beliefs but am happy to share what I've seen work for finding solid ground, purpose, meaning, and success.
I believe you have a unique purpose and that if you tap into it, you'll be happier and you'll have more impact. I believe it because it works over and over.
I also believe the law of attraction works, as it does in my life. But you have to understand how it works. It's not what you think. It's founded on scientific principles.
I'm a big believer in tapping into your intuition and your heart. I believe we all have access to far more wisdom than we often realize, if we take time to tune into it.
I have developed very strong intuition, and practice mindfulness every day, and I bring it to our work together. I help my clients find their own inner knowing. And we align that with what works in the concrete world. If this approach of tuning in to your inner knowing does not appeal to you, we are probably not a good match.
Let's Talk
Let's talk about your situation and see what makes sense for a next step for you. Request a Complimentary Initial Consult.
Val's coaching has more than paid for itself. Her encouragement to believe in my own worth, to charge appropriately for my services and not to undercut myself when negotiating contracts has been invaluable.
~Anonymous, Northampton, MA