I host a small group for heart-centered coaches/consultants who are in the business/ leadership/ career space, because there's so much to learn from each other to make our work easier and more sustainable. Plus it's more fun to have a group of heart-centered kindred spirits on the journey together.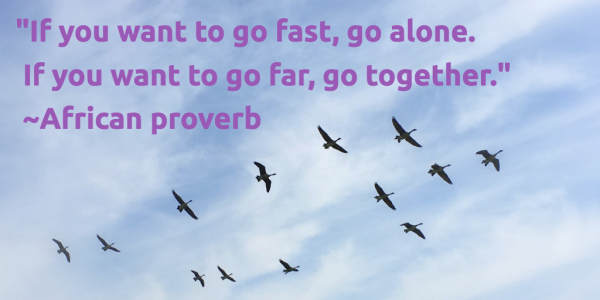 What's the Group Like?
I've been hosting similar groups for years and the members enjoy a sense of kindred spirit connections and practical support. This group is unique in that members are in a similar coaching niche around business/career issues, a field in which the mainstream can sometimes lean more head-centered than heart-centered. So, we heart-centered folks need each other to stay in our true balance.
The idea for this new group arose organically based on a need that kept showing up among my clients and colleagues.
This group is on the lighter side of typical "mastermind groups", with a lighter cost too. We're keeping it simple because wouldn't simple be nice? Pricing tiers are outlined in the questions below.
It's not a training, although learning is built in, but it's more of a peer mentoring environment that I host and facilitate so that connection and learning is maximized.
I bring my business and marketing guidance as part of it, and I also help to draw out the wisdom of the group.
To capture the essence of our group's vision for ease and playfulness, we call ourselves the "B2Bease."
I bring facilitation methods and tools that support a balance of being and doing. Nothing is forced. Everything is introvert-friendly. Everything is held in confidence.
Why Open-hearted Groups Matter So Much
We are not built for self-sufficiency, no matter what this Western individualistic culture tries to tell us. The "lone wolf" idea is a false and harmful notion. We are built for understanding and restoring ourselves within community. That is our true nature. Coming together "around the fire" for stories and connection is our heritage.
Over and over I've seen my clients come into groups and find the mental and soulful rest they need, as well as the renewed energy and clarity for next steps. It works, just as it has throughout human history.
Logistics and Frequent Questions
Is this a good fit for me?
This group is for you if you relate to all of these:
A self-employed coach/consultant/trainer (even if part-time or new to self-employment).
A niche in the space of business/leadership/career/work, or something you might call B2B (business-to-business).
A desire to have a positive impact in the world.
A desire to bring a heart-centered approach to your work and your marketing.
You like the idea of having a sense of community with your peers.
You are drawn to things like meditation, mindfulness, balance (even if you struggle to fit it in).
You lean towards introversion.
What kinds of topics are discussed in the group?
The topics are influenced by what is coming up among the members. Here are the kinds of topics we discuss:
How to choose your client attraction methods that will be easy and effective for you.
Working through a company contract vs. private pay clients.
Facilitating groups and workshops.
Self-employment mindset vs employee mindset.
Stages of business development and where are you on the map.
What kind of support do you need and how to let it in.
Checking in with your values, purpose, and positive impact.
Pricing that works for your heart and your wallet.
How many are in the group?
The group is for a minimum of 3 people and a max of 6. Enrollment is rolling until full. There are currently 4 members.
When could new people start?
As space allows, new members can join at any month.
All members will have done at least three private sessions with me to get caught up with a common mindset, and to make sure you have all that you need to get the most out of working together. I want to make sure this is a good investment for you.
Is there a time commitment to the group?
New members begin with a six-month commitment to the group so we can form strong connections. It's month-to-month thereafter.
What is included in the group program?
Monthly small group gatherings (90 minutes) for members (approximately 4-6) with Val's facilitation, including time for exploring relevant topics and finding ease with what's most current for you.
Regular opportunities for co-working sessions that open with a guided grounding to jumpstart a block of concentrated work on your business.
Opportunities for business writing feedback, technology hand-holding, and other connections between meetings. This is a meaningful community of support.
Access to my online secure client portal which is full of resources and worksheets to help you with various needs, such as niche clarity, website content clarity, etc.
Access to Val between meetings, for brief email communications via the secure portal, such as business questions.
Opportunities to help shape the group format and topics.
An introvert-friendly format so you're sure to have your best zone for connection.
I bring my 10 years of being an introverted self-employed business/career coach and making it a sustainable full-time business, using a heart-centered approach.
What is the cost?
To meet a variety needs, these tiers are available:
$125/month for all group benefits.
$350/month for group program plus individual coaching 1x/month.
$550/month for group program plus individual coaching 2x/month.
$750/month for group program plus individual coaching 3x/month.
Most members are including some level of individual support (tiers 2-4), and we can discuss which plan makes the most sense in your situation. All members will have done at least 3 private sessions with me before starting the group.
Do we meet by phone, video call, or in person?
The group meets using Zoom, an effective video call platform. For individual sessions, we can meet by phone, Zoom, or in person in Northampton, MA, (Western Mass). You can be anywhere in the world.
Next Step: Let's Talk About It.
If you want to talk about this, please start here to get access to my calendar so we can find a time to talk soon.
I never pressure anything. We'll just figure it out together. That would be nice.
Feel free to pass this on to others who might be interested.