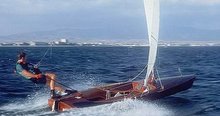 Many people wonder how to handle the lack of income security that seems to come with self-employment. I've seen people stop themselves from going for their dreams for that reason.
It's hard to take any big leap. It's scary as hell. I get it. I put it off for years. Sometimes waiting is exactly the right thing until you find the first step that makes it feel right.
To deal with the nervousness, one main trick is to stop expecting to find that sense of security that a job seemed to promise.
To be clear, that job "security" was never real. Let's face it. We were lulled into a false sense of security and it's time to wake up to the truth. Continue reading →