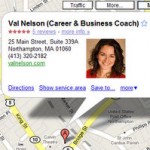 Back in the day, a business needed to be listed in the Yellow Pages if you wanted to be found, but now everyone searches online. However, most small businesses are not easily found online.
But even solo service providers CAN be found online, much more easily than you think, with some simple steps that are free. Make sure you're found in the primary online business listings: Google My Business.
Google offers a free and easy way to include your business in their search results. It's designed for local businesses, but it works even if your clients are beyond local. You don't have to have your address shown publicly.
Here's where to start: