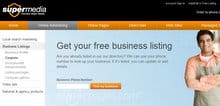 You'll get a big boost for your business's visibility if you are listed in a few key places on the web. You don't even need a website yet. You can get found now.
I know, there are zillions of options for online business listings, with a wide range of prices. Many good ones are free but which ones are worth your time?
Here's my cheat sheet for you, based on my years of real-life experience with many types of local businesses.
I'm giving you the ones that are known for making a difference for local businesses, for one or both of these reasons:
Helping your website's search engine rank (because getting more links to your website is golden for boosting your ranks).
Sending direct referrals to you.
If you don't yet have a website, I recommend getting a free Google profile or LinkedIn profile and link all your listings to that profile until your website is ready. For clarity, I do think all businesses need a good website, at some point, but don't let not having one yet be an excuse for not going after new business now.
First, Get Listed in All the Right Places
This checklist of tasks is listed in priority order. Even doing just the first two is great:
First and foremost, get in Google's free local business directory. Back up the bus and do it right now. If you do nothing else, do this. I get multiple inquiries every month as a result of my Google business listing. (You have to make it a good listing to get results, so be sure to see the tips below to optimize your listing.)
Now do a search in Google for the most likely thing people would search for when needing your type of business. For example, if you are a summer camp owner, search "summer camps." Then look for the first camp directory in the top 10 Google results. That directory is worth paying money to get listed in. In most cases, if you get one new client (and you probably will), it will pay for itself.
Find a top trade-specific directory or two to join. For example, I've known health professionals who have boosted their Google ranks after getting listings in either The Health Professionals Directory or Psychology Today Directory. (You can usually find the right ones by doing step 2 above.)
Feeling Serious About Getting More Listings?
Here are some more options for those who really want to cover more bases…
Get listed in a few of these other popular and free local business directories. Some directories are more popular in certain areas. For instance, Yelp is essential in big cities.
Find and join the most popular local trade organization if it includes a link on their website. For instance, as a coach, I joined the Western Mass Coaches Alliance and have gotten multiple good referrals from that web listing, for a small annual fee to be listed.
If you have a blog for your business, submit your blog to these top blog directories. (When my blog got approved by AllTop, which takes time, it boosted my blog traffic.)
Second, Optimize Your Listings with Ratings and Reviews
One of the main reasons some businesses show up higher in the free listings is because they have more positive ratings and reviews.
It's OK to ask your past and present clients to review you in there. They are often happy to help. You can't edit their reviews so it's all legit.
There are other ways to optimize your listings, such as using good keywords in your business description, and adding images. Feel free to leave questions in the comments box below.
See also: Optimizing Your Social Media Profiles To Get Found
What If I Get a Bad Review?
Some people ask whether to worry about getting bad reviews in these directories where anyone can leave a review. Focus on providing great service. You'll be fine if that's your focus.
If someone reviews your business unfairly, you can report it to the directory publisher and they will listen. If it is a fair review, then respond to the person and make it right.
Consumers rule in today's social media world, and that's a good thing because good service wins! Embrace it. Work with the tide not against it.
More details: Should You Worry About Online Reviews?