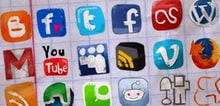 If you want some extra visibility for your business, it's worth considering (but not necessarily essential) to have a presence on some popular social media sites like Facebook, LinkedIn, Twitter, YouTube, and others too.
So maybe you have some kinda of profile on LinkedIn but not sure what to do with it. What now? Here are some tips.
You won't actually be that visible in social media without some optimization of your profile, for starters. So let's focus there for this post.
As a business coach and as someone who sometimes gets a lot out of social media, I often get asked how it works.
Both beginners and regular users of social media can benefit from these tips. I see even the most advanced users skipping key steps.
At Least Do These Things for All Your Social Media Profiles
Link to your website within your profile description.
Can't believe how often this gets left out! Add a link even if there's no stated place for a link. For instance, use the About area on your Facebook Page to include a link, or a link in a YouTube video description area.
Add links to your social media profiles in your email signature and on your website.
You'll need a custom URL to make it look nice in email. See below.
Include a real photo of yourself to make it more human.
Virtual world connections increase when there's a real face, not a logo or a blank square.
Use real names so people can find you.
Use your real name and your real business name wherever those fit. Avoid abbreviations and lesser known names for your business. (If you or your business have common nicknames, use those in the description so that you'll be found by those names too.)
Use your target keywords throughout.
Use them in your profile description, tags, your "interests," your summary, video tags, and in some of your posts. Don't stuff with keywords. Use them as would be helpful for a real member of your audience.
Connect with others; be helpful; recommend others.
The more you give value to others, the more they'll do the same for you. You link to them, they'll often link to you. Play nice. Kindergarten rules still apply.
Focus on connecting with influencers in your niche.
Focus more attention on people who might influence your ideal customers. This includes popular bloggers in your subject area. It also includes people who might commonly refer to you. Consider where your influential folks are active on the web and focus more attention there.
Some Specific Instructions for Your Profiles
Taking It to the Next Level
Ask for ratings, comments, and "likes."
Don't just sit there and wait for them to come to you. Suggest it by doing things like adding a Facebook "like" widget on your website so people can spread the word about you with one click. Also, send people to your online videos, slideshows, online business listings, and other postings and invite them to post reviews there. Reviews, ratings, and "likes" lead to higher ranks.
Don't forget blogs.
Blogs are social media too. Blogging puts your website on steroids. Even if you don't have your own blog, you can comment on other people's blogs, with your website link, and gain visibility. (Here's why I blog.)
Where to Learn More
Of course there are zillions of resources about getting the most out of social media. Here are my favorite resources for staying on top of my game:
Search YouTube for your particular question and you're bound to find answers.
Hubspot – leading-edge web marketing business offering lots of free webinars and tools.
Mashable – The social media news and web tips blog.
See you online somewhere. Find me on Facebook, Twitter, LinkedIn, and of course here on my blog. (See how I cleverly threw that in. Just trying to be a good role model.)