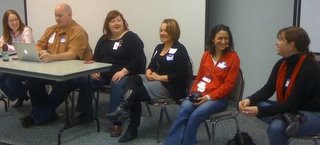 The key to making online networking (or social media networking) work for you is so simple.
It may seem obvious at first, yet most people using social media are not doing this. If you do, you'll have the edge.
The key is to connect your online and offline networking. Don't just chat on the web and expect results from that alone. Likewise, don't just show up at events and expect results from that alone.
Mix and match.
If you meet someone online, take the connection further by calling or inviting them to lunch. Conversely, if you meet them offline at an event, continue the connection online (via LinkedIn, Twitter, Facebook, or whatever works in your case).
Really, it's that simple. Time-consuming, yes. Complicated, no.
If you want to be remembered, you need to keep communications flowing in a friendly, non-pushy way. Online networking makes that easy.
If you've stayed in touch, who they gonna call? You.
Recently I spoke on a panel about "Social Media Case Studies" at PodCamp Western Mass. All of us had stories that emphasized the importance of connecting online and offline networking. It's working for all of us.
For instance, those of us who use Twitter and see the value in that offline connection like to meet in person at Western Mass Tweetups. They're fun plus I've experienced and seen many meaningful connections happen out of those events. Tweetups happen all over the world and there's a reason!
Let's Get Specific
True story. I responded to a question online in the spirit of being helpful. I noticed someone added an interesting comment after mine so I checked out his website and his work resonated for me.
Living by the principle of following the signs, I emailed him and said we should meet. No sales pitch in mind, just to get acquainted. He said he was about to contact me and immediately agreed to meet. We met for lunch and he has become one of my most important business contacts.
We refer business back and forth and he has been an important mentor for my business. None of that would have happened if I hadn't taken that extra step to say let's meet!
What's Your Networking Style?
I realize I'm the kind of person that usually loves meeting new people for lunch or tea, so that system works for me. What's your style? If nothing comes to mind right away, think about it, find your style.
There is a way to make networking fun and manageable for any personality style, even for introverts. Making it fun for introverts is one of my favorite topics. Wanna chat about it over tea? Or let's chat in the comments section below. Or both!