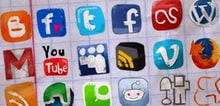 Marketing angst is probably the most common concern I hear from people who are self-employed or considering self-employment, so I want to bring some hope to the cause right now.
I've been writing a business and career advice column for introverts that appears on Quiet Revolution and Huffington Post, and most of the letters I get from self-employed people are about some kind of dislike of marketing.
Here's a question from a self-employed service provider that captures it well. I'll give you an excerpt from that column plus a link to read the whole answer. 
~ ~ ~ ~ ~ ~ ~ ~ ~ ~ ~ ~ ~
Dear Val,
I'm a self-employed alternative health care practitioner in private practice. It used to be that word of mouth was enough to keep my practice going, and I had more than enough business. The last several years have been more difficult, which I attribute partly to people having less cash for out-of-pocket services like mine.
Although I have a website that brings in some business, I don't have much of a social media presence because I just don't enjoy social media. I don't like putting myself out there in continual posts about my services.
Are there other ways to market myself that are more consistent with being an introvert? Or do I just have to suck it up and keep posting?
– Frustrated by Facebook
Dear Frustrated,
I'm so glad you wrote me about this. What you're describing is something I hear so often that I'm thrilled to help resolve it for you and all the other folks who are wondering if they need to just "suck it up" on the typical marketing "shoulds."
The short answer is NO! I officially set you free from pushing yourself to do something that doesn't feel right to you.
I'm not saying there's no effort involved in growing a business. And I'm not saying "forget social media" either. But… [Continue reading on Quiet Revolution for my realistic answers for you.]
~ ~ ~ ~ ~ ~ ~ ~ ~ ~ ~ ~ ~
Connect with Kindred Spirits for More Ideas and Support
Come connect with other introverts talking about work and life issues:
Join the caring judgement-free conversations in my free online discussion group on Facebook called The Introvert Clubhouse.
Join The Introvert SOULpreneurs Mastermind Group, a small circle of support with solid practical guidance to develop your business in a way that is true to your nature, your heart, and your wallet.
Hope to see you there.