Imagine the relief of having clear offerings and clear prices that you feel great about! And your people feel great about too!
Let's come together for a get-it-done workshop so you can get your service offerings and prices done!
No more leaving it lingering in a fog of questions and worries, or cringing when someone asks you "How much?"
These days I experience mostly ease and fulfillment around pricing and packaging my services. But lemme tell ya, it wasn't easy for me at first. I get how hard it is when you don't want to be all "salesy" or price too high or too low. Head spin! Fear! Ack.
Today I see how much benefit my clients have when they invest in a clear transformative experience (in the form of a "package" or "series") versus a vague session-by-session process. I want them to get the full experience that I know is possible, not just a taste of it.
I've helped many other coaches, consultants, and healing arts professionals have this same kind of ease with their pricing and service offerings, and I see how it leads to having a more sustainable business where they can continue to share their valuable services. It makes my heart sing.
Your meaningful work is needed in this stressed-out world, so let's make sure you can keep serving people in a sustainable way.
The package pricing that Val helped me refine is working out great. I have more longer term clients which is a win/win for both of us because working together over a period of time helps my clients to make significant changes." ~Mary Lou Meddaugh, Life and Career Coach
AWESOME that you're bringing back this workshop.  As you know, it has served me well! Yes to ease with pricing. I love that I don't need to think about and customize the plan each time a client requests my training service because my package options are working. And with the details in writing, both my client and I are clear on the term and specifics of what to expect.  My clarity means I'm able to state my fee without hesitation or doubt. YES!!" ~CL, Accountant
Let's do that for you too.  Let's walk through it together in this small group workshop. We'll get it done and you'll be breathing easier by the end.
Do you recognize these worries about this topic?
"I want to know the going rates, but I don't know how to know that."
"I always worry that I'll price myself too high and will lose business."
"I have a fear that they think I am overrating my work or services. That they will judge me or not trust me."
"I want to find some way to support people from all ends of the economic spectrum, but I can't give away what I don't have."
Let's Solve That
I'm ready to respond to those worries and more. We won't solve all your money issues, because money stuff is deep primal stuff. You're not alone in having that money angst.
We will get you a structure that feels realistic and good to you, that you can run with. Just show up willing to participate with an open mind and open heart.
Imagine This…
In this small supportive workshop, you'll find the grounding, the guidance, and the hands-on focused work time to get your pricing and packaging done — in a way that honors your valuable services AND honors the needs of your clients.
We'll come together in the morning and set a tone of ease and grounding in a heart-centered approach, and we'll walk into the water step by step.
We'll have a combination of educational sessions, interspersed with time to work on your own, and time to meet in small groups with me.
You'll have guidance along the way, and a chance to ask questions all day and afterwards.
By the end of the workshop…  You'll have a written description of your new pricing and packaging, AND you'll feel good about it, knowing it's going to help both you and your clients to thrive. That's what pricing and packaging is about. It's a win-win.
True to you, true to others, and true to your wallet.
In this workshop:
You'll be energized and empowered to create packaging and pricing during the workshop that you can implement right away.
You'll make some decisions that move your work life towards more sustainability and more fulfillment.
You'll get step-by-step guidance.
You'll learn why there's no icky salesy stuff required to be successful!
You'll learn a refreshing approach to pricing that doesn't involve worrying about the "competition."
You'll enjoy restorative time in a group of kindred spirits, with spacious room to think.
You'll feel encouraged by people who "get you" and have useful feedback for your ideas.
You'll also get a recording of your group sessions in case you miss some or if you want a review.
You'll feel honored as a caring introvert who wants an introvert-friendly learning environment, and caring business methods.
Is It For You?
This is perfect for you if all these are true:
You want to enjoy a fulfilling sustainable self-employment experience.
You have a quality service from your heart and now want to strengthen the clarity of the pricing and packaging of it. All levels of experience with pricing and packaging are fine. We all need to review it from time to time.
You are a self-employed transformative service professional — such as a coach, healing arts professional, mindfulness teacher, consultant, or workshop leader — or already moving towards it. (If you provide a product, this is probably not a good fit but you can ask me about it.)
You want to make noticeable progress in a smart way without reinventing the wheel.
You might relate to leaning more introverted or somewhere in the middle between introvert and extrovert ("ambivert"). This is not required but I'll be bringing an approach that is keeping introvert sensibilities in mind.
This presenter doesn't force you to be who you're not. She provides realistic strategies to work with who you are. ~Introverted Workshop Participant
This workshop is NOT for you if:
You feel very resistant to the idea of packaging your services.
Your work is not close to your heart.
You are completely overwhelmed by the idea of charging for your services. (We won't be solving that degree of concerns.)
_______________________________________
Questions?
Pop me a note at the bottom of the page,
and I'll get back to you quickly.
_______________________________________
About Me and My Approach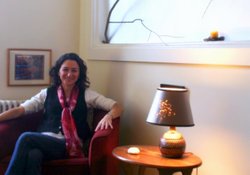 I'm an ex-wallflower who once had no clue about setting prices and packaging my services and I didn't see how self-employment would ever add up to a livable income.
I've now come to see that pricing and packaging is NOT about being salesy. It's about providing valuable services with clarity, and that does align with my heart. I'll explain more in the workshop.
I have learned what works for me and I love helping others find what works for them.
I bring my empathy for the fears that come up around money (which we all have). But I also maintain a keen eye on the ball to hold you to your bigger purpose, where we don't let fear stop us. (Just writing that about your bigger purpose makes me want to say Amen! It's so important.)
It's been essential for me to sit down with trusted advisors to get things like this done, and I love passing it on.
I love the way Val lights up the room when she facilitates, and it's fun to see the light bulbs go on over participants' heads too. ~Kelli A.
---
When, Where, How
January 24th, 2018 (with a wrap-up hour on January 19th)
On both days, we start at 11:00 am Eastern time, U.S.
That's 8:00 am Pacific, 4:00pm GMT/London.
The workshop includes 3 one-hour meetings and ample get-it-done times between meetings. It takes place mostly on January 24th with a wrap-up call on January 26th. As all meetings will be recorded, it's OK if you have to miss some of it.
We'll use a videoconference tool (Zoom) so you can join in from anywhere. You'll need a good internet connection or else a phone. You'll have an opportunity to be on or off camera during discussions, per your choice.
---
Cost and What's Included
What's Included in this Workshop:
Education and guidance on pricing and packaging during 3 meeting times.
Two work periods between meetings to get your guided homework done.
Smaller group sessions (6-8 people) as your second meeting, to ask questions and get individualized feedback from me and your kindred spirits.
BONUS: After the workshop, more support is included!
For up to a week after the workshop, you can send me related questions.
You can send me your packaging and pricing plan for a quick review from me! This is available for up to one week after the workshop for those who complete a workshop feedback form right after the workshop.
You'll get a recording of your group sessions in case you missed some or if you want a review.
You can schedule individual consults with me for 15% off, if scheduled within one week of the workshop.
_____________________________________________
This is your chance to get this whole
packages and pricing thing done
—with guidance, companionship, and feedback.
_____________________________________________
Regular Price:
$250
Only $150 if registered by Dec. 31, 2017. 
Register Now

REGISTER HERE (Link doesn't work until enrollment opens.)
Max of 32 spots available.
Remember, if you can't attend live, you still get the recordings and resources.
Questions? Concerns? Anything that comes up for you, just ask.
Use the form below to send your question. I'll get back to you quickly.  Thank you.