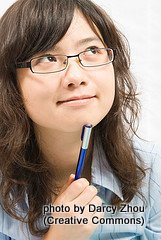 There's so many great reasons to hire interns (especially for help with social media) and we all seem to want their help. But, so much gets in the way, right?
You search, you interview, they start…they stop showing up, or you don't know what to give them… and you stop trying.
Yet, some people manage to make it work! People are using interns for help with social media marketing, technical jobs, video storytelling, and more. I've been collecting their secrets for you.
First, Choose the Right Things to Delegate
It's not easy to turn over your projects to someone else, much less someone who you're not sure is that invested or experienced. The  trick is to delegate the right things.
I think you'll find yourself relaxing your shoulders when you see this list of specific and helpful ideas for what to delegate to interns when it comes to social media marketing projects:
10 Social Media Tasks for Interns (by Aaron Uhrmacher, social media consultant)
In a nutshell…
Don't let an intern be the one to develop your social media strategy; be your primary voice in social media, or make decisions about how to measure success.
Do let them do important jobs like research, giving you feedback on your campaigns, creating video interviews, and much more.
Read the article for some great specifics on how to make it work. Then start writing that intern job description.
Also, check out the comments below for examples from real people having good success with hiring interns.
Second, Choose the Right Intern
Never underestimate the interview and selection process.
It's hard to know what to ask someone who has minimal job experience, so here's a great cheat sheet for you. These questions will elicit what you need to know:
Interviewing Interns (by Jim Taft, Executive Coach)
It's Time To Go Searching
Once you've got your job description and your interview questions ready, it's time to post your job and find those interns.
If you need someone soon, try listing on:
If you can wait about six months for them to start, contact your local colleges for intern options. This is the ideal way to get someone with relevant interests, and with an added level of commitment if they're getting credit.
Feedback?
What has worked for you? Please leave your comment below. It only takes a minute and you'll get a link back to your website.