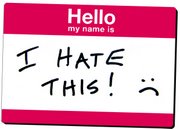 That dread of so-called "small talk" is a classic concern of introverts. It might be the crux of why we are sometimes seen as anti-social.
If we want to find more ease in certain social situations (networking events, holiday parties…), we have to deal with our dread of small talk.
Common worries I've heard from introverts:
"People think I'm a snob just because I'm not interested in the conversation."
"I'm not shy and I am friendly, but I don't like small talk about nothing."
The small talk concern is one of those hot button issues for introverts. I've noticed that just saying the phrase "small talk" leads to instant groans and rolling their eyes.
I'm an introvert who used to hate small talk too, so I can smile with recognition when introverts groan about it. But now it feels fine, well, most of the time. And I didn't change who I am.
I have some easy solutions here for you.
A Little Effort Can Get You the Depth You Want
We need to trust that we will get to the more meaningful conversations we crave, and we can steer things in that direction. We have more power to do that than we sometimes realize. Introverts tend to dread small talk and enjoy meaningful conversations, so go for it.
However, others need the lighter chatting to warm up slowly. In fact, they can be thrown off if we go deep too fast. So diving into the deep end right away is not the solution.
If you want connection, both introverts and extroverts need to lean in to each others' styles a bit. For brief periods, not all day. It can really pay off for everyone.
If you hate small talk, it's not that you have to learn to love it. But I do think we need to learn to meet people half way.
It takes some trial and error, and a little patience, to find what works for you when it comes to social situations with small talk potential. Try out these tips…
Making Small Talk Situations Easier
A few tips to take with you for those awkward social situations:
It's OK to take breaks when you hit your saturation point. Take a walk outside to breathe and re-energize.
Don't just sit in a corner looking at your phone. Not only might it come across as being unfriendly, but it won't give you the real relief you need.
Find someone you do enjoy talking to, such as someone else who seems uncomfortable too. You can even talk about being uncomfortable. It's an easy starting place for a real conversation.
Negotiate with your spouse about leaving social events early, even if it means leaving at different times.
Increase your alone time leading up to important events so you have more energy when you get there. (We need to charge our batteries before heading out.)
You don't have to stick with the "small talk" opening part of a conversation. It's up to you to lead the way into more meaningful stuff. That's where most introverts feel more at home. Tune into your curiosity and ask questions about what the other person cares about. The more each person can focus on what matters to them, the more easily the conversation can flow.
Learn more about introversion and how our brains work so you don't feel so apologetic about what works for you. (See some of the resources below.)
Ready to go try on some of the tips? Make a few notes to have on hand in a pinch, and give it a quick look before the next social event.
These are the kinds of things we talk about in the Introvert Clubhouse (a free group on Facebook). Come join the conversation there. And of course, comments are always welcome below.