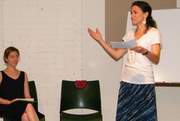 I just led a networking workshop with this same title the other day and wow, the room was packed with eager folks. I had to turn some people away!
Clearly there's a big unmet need for help with networking, especially among introverts who often say they feel like they have to put on an extrovert mask to network. Not true!
In the workshop, I focused on helping introverts bring their authentic selves to networking so they can have more fun, ease, and success with it. No extrovert mask required.
I saw lots of aha moments as the participants learned what networking is and isn't and how it can work for them. I'll let you in on some of the key lessons in the workshop.
Take-Home Lessons
The best way to capture some of the workshop lessons is to quote some of the participants on what they gained from the workshop.  (Quoted with permission.)
"It is helpful understanding what networking is. I do like a lot of networking activities and will focus on those." ~Kim
"I don't have to be someone I'm not. I can work with who I am." ~Anonymous
"Find networking opportunities among the things you already enjoy." ~Anonymous
"Oh right, do what I already enjoy! Aha. I'm going to host a lunch for ladies I like." ~Lisa
"I'm already networking. I just didn't realize it!" ~Victoria
"Networking does not = pain and suffering!" ~Mary
"Don't be pushy. It doesn't work — what a relief!" ~Anonymous
"One secret to networking is starting in your comfort zone." ~Christopher
"Networking is just making new friends." ~Anonymous
"Having lunch with friends is networking!" ~Lori
"I need to articulate why I love what I do in my opening." ~Carol
Oh, it was so fun reading what everyone learned. This was my first workshop on this topic and the participants made it fun because they got so engaged in it. I think they surprised themselves for how much they joined in.
Leading a Workshop Was a Form of Networking for Me.
In my case, leading this workshop makes a good example of applying the principles of effective and easy networking. Instead of following the typical advice to attend networking events, I thought about other ways I could meet kindred spirits while doing something I love, that comes easily to me.
Since I enjoy teaching, leading a workshop fits the bill. And since I'm passionate about this topic, I knew I'd have the energy to see it through. And I knew it meant that getting to know new people would go much better when my heart and energy were on board.
In the end, it was fun and relatively easy, and I did gain new email subscribers, some publicity, and some coaching clients as a result of the workshop.
I'd love to hear your thoughts and ideas in the comments section below. Thanks!