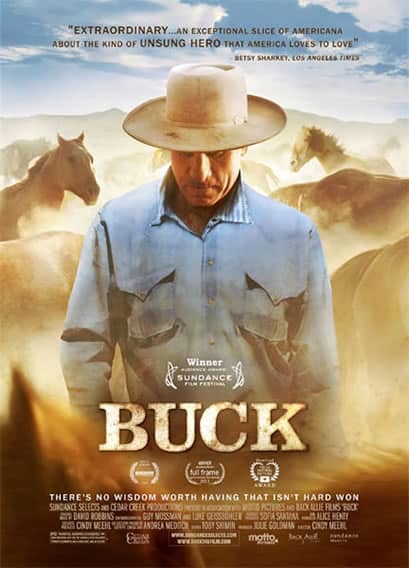 I saw an incredible movie recently, Buck. It's a documentary about the real "Horse Whisperer." It got me thinking about something that must be talked about, but is hard to talk about in public. So let me try.
I'm goin' deep and gettin' personal here about the roots of painful shyness.
The film told the story of Buck Brannaman, who is known for his gifted connection with horses, and training horses without using harsh methods. (His story was fictionalized in the book and film, The Horse Whisperer.)
When you watch him with a horse, you can see why they call him the Horse Whisperer. It's magical.
In the documentary, Buck is open about his very introverted nature, and his extreme shyness in his past. One person said Buck couldn't look people in the eye when he first started out as a horse trainer.
Buck talks openly about the severe abuse from his father as a child. He said it's probably part of how he became both very shy, and so tuned in to animals' needs to be treated with kindness.
Note that introversion is different than shyness, although they can be related. I'm guessing Buck is naturally introverted and that his childhood was a major factor in creating chronic shyness. (I explained the shyness and introversion connection in a previous post.)
Sometimes our greatest talents are formed out of adversity, and his story is a perfect example. It's such a beautiful story. I recommend the film.
Watching the movie made me face the fact that I talk a lot about shyness, and my own painful experience of it in the past, without talking about how childhood shaming experiences can play a significant role in chronic shyness. It's just hard to talk about that stuff in public. Right? I think it's important enough that I am pushing through my resistance.
I'm not going into personal details which aren't important here. It's the ideas we need to talk about…
What's the Cause of Shyness?
First, let me be clear about why I'm nervous to talk about this. I'm afraid people will think I'm "blaming" parents when it comes to shyness. Or that I'm saying abuse is the cause of shyness. I'm NOT saying any of that. Nor is it about blame at all.
There are shy people who have wonderful loving parents. Everyone has hard stuff happen in their childhoods. Every kid is unique in how they respond. Sometimes parents, siblings, teachers, and friends can really help, or hurt, in a given situation.
There are too many factors, internally and externally, to start pointing fingers. There is no ONE cause of shyness.
One reason introverts are more prone to shyness is because of our heightened sensitivity to our environment. Susan Cain (author of Quiet) describes the introverted child as an orchid who can wilt easily. On the up side of sensitivity, she says a sensitive child can also be exceedingly kind, conscientious, and successful, when given a steady supportive environment.
I think difficult childhood experiences can be a very real part of the story for many people who experience chronic shyness. I believe introverts are more likely to turn those experiences inward and become more shy, whereas extroverts might express stress more outwardly. Susan Cain's book explores some of the research to support this theory.
My Personal Experience
I am an introvert and my sister is an extrovert. We grew up in the same environment but had very different responses.
I think I turned negative experiences inward on myself, maybe blaming myself, and I became that shy "wilting orchid," afraid to be seen and heard. I can't speak for my sister, but I think she handled stress in a different, more outward way.
As a teen, she was sometimes seen as the acting-out "problem" and I looked like the "good" quiet kid. I was seething inside but no one seemed to know it. Of course, stressful things left their impacts on both of us, but it looks different on the outside.
I know a shy little girl that everyone thinks is just a good little girl. I know there's far more to the story. She has a lot of stress inside. Luckily, I know there are child therapists, parents, and others, who understand this "good girl" thing has its hidden problems.
For me, I struggled with chronic shyness at least into my early 20s. Now I would say I'm a fairly confident introvert who has done her homework on my childhood stuff. I also built my courage over time by following passions like becoming a teacher in my early career. Now speaking in public comes fairly easily.
As is common for introverts, I can still get caught in my inward tendency for over-thinking, worrying about what others will think, but today I know how to talk myself through it, find support when needed, and speak up when I want to.
Ugh, I'm feeling the Perfection Police in my head as I think about publishing this post. Should I go for it anyway? Is it good enough? Is it helpful to someone as is? What else should I add to make it better? That's how it sounds in my head. I guess I can hit publish and find out. Right?
Oh and be sure to watch that movie. It's an entertaining look at how one introvert uses his natural gifts to be successful.