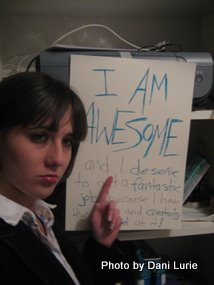 I think we all tend to confuse extroversion with confidence. So let's re-think it.
I'm an introvert and when I speak up confidently about something, people sometimes say, "You must be an extrovert."
Hey, I can be an introvert AND be confident and out-spoken. Or confident and quiet. (I can hear my confident introverted friend Jenn saying "Hell yeh.")
Do you think introversion and confidence can go together? Think about it.
I was painfully shy in the past and I'm not anymore… but I'm still an introvert.
I believe that no matter how shy or anxious you might feel in certain social situations, there's a way to find more ease and confidence. And you can still be an introvert (which is not the same as shyness). Continue reading →