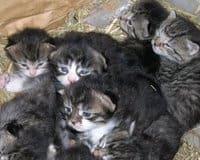 2009 was a year of transition for many of us during economic turbulence and stress. Leaving jobs due to layoffs, starting new businesses, changing business strategies, facing the power of social media, or whatever it is for you.
I'm currently going through a "birthing" process into a new direction for my still new business and I'm appreciating how exciting and scary transitions can be.
Stressful times have often been the most important growth periods, but being the middle of that is hard.
Like an unplanned pregnancy, a business transition can sneak up on you and force you to rethink everything from your values to your life purpose. But the idea of the "baby" coming is also thrilling. It's both.
I notice so many people are taking this global transition time to embrace what's really important to them. There's the joy.
When I first drafted this post a few weeks ago, I was more in the murkiness of the transition, like a baby that was past due and I was getting a bit cranky.
It's nice to notice, as I read what I've written, that only a few weeks later, I'm fully in the joy of it. The baby is here!
I'm wishing you joy or acceptance of murkiness in whatever birthings are happening for you right now. You might be a few feet from gold.
The potential is truly amazing if you can embrace it!
Sending sincere thanks to my "midwives": Nadia, Lisa, Dave, Kelli, Sara, Jaime, Denise, Joe, Angela, Dan, Joan, Bett, and well, everyone that's listened and cheered me on. It takes a village…
Recommended Inspiration
[Resource list updated Feb. 12, 2011]