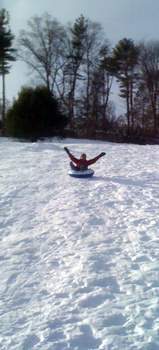 To my beloved blog readers,
During this time of year-end reflection, I notice myself thinking about what matters. Gratitude for you comes to mind.
Thank you for your support of my work by reading my blog and possibly showing interest in more ways (attending events, referring clients to me, etc.). Since my work is an expression of my life's purpose, your support and interest mean the world to me.
I'm including a photo of me enjoying that Whoosh of trust and flow as I rapidly sled downhill. On that day, it reminded me of my option to choose trust on the ride of self-employment.
I'm glad that I often remember to go with the flow, like you have to with sledding. I hope you're experiencing that flow feeling too.
My Year in Review
As I look back on my year, I'm especially excited to share these milestones with you:
I enjoyed speaking at numerous events including the 18th Annual Women Business Owners Conference, U.Mass. Eisenberg School of Business, PodCamp, Western Mass Business Expo, and the Women Business Owners Association series at Bay Path College.
I led my networking workshop for wallflowers at U.Mass. and got invited to lead it at U.Conn. in 2012.
I made some wonderful new connections at those events.
I hired an e-learning specialist to help me create an online course version of my networking workshop (in the works).
I had a significant increase in business over last year.
I'm finally starting my e-newsletter.
I assisted at two coaching trainings which deepened my passion and skills for coaching.
Most importantly, I've had the honor of helping people clarify their life's work and bring it into reality — defying the economy and other fears.
Now I'm breathing and taking in this abundance.
What about you? What milestones come to mind as you look back on your year? I invite you to write it down and perhaps leave a comment below.
May this season bring you time to appreciate all that's here already and all that's possible.
Best wishes and happy holidays,
Val Nelson