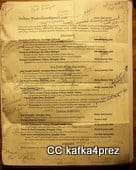 You might be making an old-school résumé as if you're applying to IBM of 1950, as too many people do. Here's a résumé writing checklist to make your résumé stand out in a more modern world.
My career coaching clients have sometimes asked me to review their résumés. As a former hiring manager, I know what helps a resume stand out (and what gets tossed out) especially when the employer is inundated with résumés as I was.
Here's what I find myself saying all the time about the résumés I see. You can use the following as a checklist.
In reality, I recommend having a résumé specialist (not me) have a look, even if you think yours is pretty good. Someone familiar with the latest job search and hiring trends can really pay off in more ease and more results.
First, the 6 Easier Repairs
Add a quote from a former boss or client.
People doing the hiring don't actually care that you "want to grow in your career," but they do care what a former employer would say about you. So put that positive quote right up front. Don't have quotes? Go ask for some. Really. Make it a priority.
Tell your accomplishments, not just responsibilities.
It doesn't say much if you list what you were supposed to do in a job. They want to know what you actually accomplished. The more concrete the better. You need to show that you bring something unique to solving real problems. If you want to attract the right employer for you, be sure to highlight the accomplishments that you enjoyed. (See accomplishment stories.)
Make it easy to scan or they won't read it.
Employers may get 100+ résumés for every job so they're moving fast. You'll get their reading attention if you give them lots of white space, consistent formatting, obvious section headings, and a decent-sized font. Seek feedback from a friend over 40. (At least give a double space between every job.)
Forget that "one-page" rule in your head.
If you make it worth the reader's time, and you make it easy to read, they'll keep reading.
Get a proofreader!
When I was a hiring manager, I received thousands of résumés. At least 90% had a mistake! Because I was swamped, almost anything was enough reason to toss 'em out. Be sure to check the "little things" like the spelling of the employer's name!
Email documents as PDF.
Don't attach a Word document because it may not look the same on the other end. All that formatting and font selection you did is out the window.
4 More Steps If You're Serious About Standing Out
Your résumé should clearly express what you want.
If you don't know what you're looking for, or you can't express it, you won't find it. Your lack of clarity could be exactly why your search is stuck. You're not alone. Our education has taught us to fit in, so we neglect to find out what we actually want! The reality is that you'll find the job search MUCH easier if you figure out and express what you want.
Hint: career coach or a budget-friendly Career Clarity Course.
You need to get their attention.
Sending that 1950s "classic" résumé won't cut it anymore, even at IBM. Insert your photo, add some color, show samples, … and that's just scratching the surface of possibilities. This is NOT a time to blend in. You can even make a slideshow, a video résumé, and/or an online VisualCV. For creative fields, show your stuff. For fields like law, stay within the lines. Adjust accordingly.
Don't expect résumés to be the answer to a job search.
It's just a back-up credential when necessary. A successful job search is more about knowing what you want and being visible in the right places. Sending your "perfect" résumé to a thousand people is not the answer.
If you're getting stuck, check out: Job Market Dead-end: 7 Ways to Get Around It.
Customize the résumé to the job.
I'm absolutely NOT suggesting you turn yourself into someone that isn't you. But when you do hear of a great job that's right for you, you'll get their attention if you describe yourself in a way that speaks directly to their needs. No need to list all the stuff you can do but don't want to do again. Thoroughness is not needed. Specificity and relevance is.
Inspiration
After a long list like that, a little inspiration is called for:
The power that gives you your gifts is also going to give you the power to share your gifts with the world."
~Tama Kieves, author of This Time I Dance
In this context, that means you can promote yourself and get results… when you tap into your passions.
Join the conversation below. What stories, questions, or inspiration do you have to share?
Resources
Tips for Introverts in Career Transition
My specialty is helping introverts and highly sensitive people (HSPs) in career transition, especially those considering self-employment or a hybrid of employment and self-employment. They tend to undersell themselves, so you might need an introvert specialist to help you see and express your gifts.
These might help: