I was interviewed for The Quiet and Strong Podcast. We got into some of my favorite topics — introverts finding their career path, superpowers, and how introverts can be great at self-employment. It's nice to chat with a fellow introvert specialist who understands career concerns for introverts.
I shared some of my own career story — from burnout to finally understanding what would work better for me. We also got into my self-employment journey, including how it began, and how it feels.
We covered lots of concrete tips for introverts and HSPs wanting more ease in their career or self-employment path. People are telling me they've gained some new insights from listening.
You can listen here: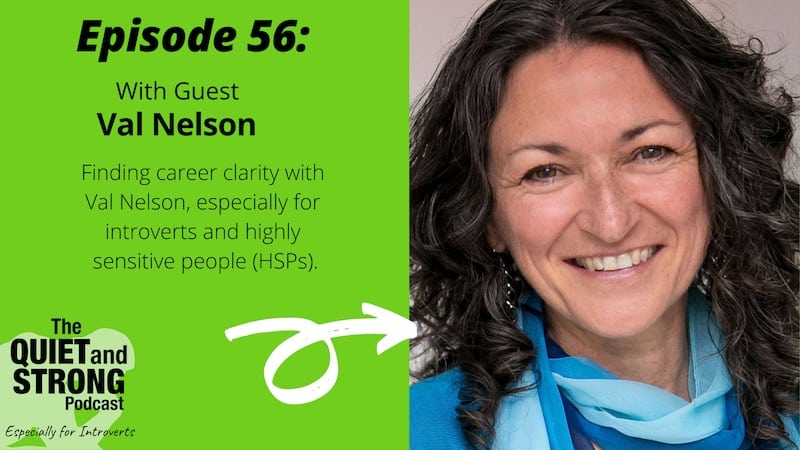 We discussed all these topics in the interview:
My journey to understanding my introversion and high sensitivity trait.
Introvert myths and the difference between introversion and high sensitivity.
My career journey including burnout, confusion, and learning to pivot.
My self-employment leap and how my business has evolved since then.
Superpowers and the ease of finding natural flow.
Overthinking vs wise deep thinking (often confused). – Deep thinking is underrated.
Burnout causes, like wearing an "extrovert mask."
What introverts need in their work.
How to discover your best career path (and how I put the steps into a course, Career Clarity Course for introverts and HSPs).
My list of best careers for introverts and HSPs.
Making self-employment and marketing easier for introverts and HSPs, with examples.
My small group communities for introverts and HSPs: Career Explorers, SOULpreneurs, and the Coaches Circle.
I hope you enjoy listening and I welcome any questions.
Thanks David Hall for having me on your show. I enjoyed it.